Wells Fargo Rewards® Card Review
March 24, 2020Stephen Altrogge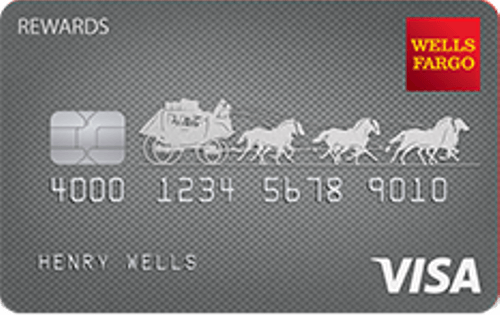 Best for: Individuals looking to jumpstart rewards earnings, make a big purchase or pay off a debt with a low cost, no-frills card
The Wells Fargo Rewards® Card is by no means flashy. There are plenty of rewards cards available that earn more points, can generate more rewards and provide more perks. However, a lot of those same cards require long-term commitment and high annual fees to unlock their benefits.
Conversely, if your financial goals are more modest — a one-time purchase within a singular timeframe or a balance transfer with time to pay it down — then you might not require anything too flashy. With an attractive introductory offer, no annual fee and a straightforward rewards program, the Wells Fargo Rewards Card might be exactly what you need.
The basics
APR: 0% for first 15 months, then 17.99% to 26.99%.
Annual Fee: $0
Rewards Rates: One point per dollar on all purchases. For the first six months, you will earn five points per dollar on gas, grocery and drugstore purchases on the first $12,500 spent.
Intro Offer: The introductory offer is the 0% APR for 15 months, which also includes balance transfers made within 120 days of opening your account, and the 5x points earned from gas, grocery and drugstore purchases, up to $12,500.
Standout features
You can use points on a number of items including brand-name merchandise, cash redemptions, online auctions and travel (car rental, cruises, flights, hotels or special excursions).
Points are automatically redeemable in the form of a deposit or credit back to your Wells Fargo account. The minimum threshold to redeem is $25, or 2,500 points.
When using points for air travel, there are no advanced booking restrictions and no minimum or Saturday night stays.
You can earn bonus points by shopping on the Wells Fargo Earn More Mall® website. Special offers feature online and retail name brands such as Apple, eBay, Groupon, Home Depot, Lowe's, Hotels.com, Target and Walmart.
You may gift your points to other Wells Fargo Go Far® Rewards users.
You can pool your rewards points with those of other Go Far Reward users.
Points are redeemable for gift cards or for making a donation to your preferred charities.
Security features include zero liability protection for unauthorized transactions, card and account activity alerts and chip technology.
With the Rewards card, you also have the added benefit of cellphone protection. Use your Wells Fargo credit card to pay your mobile bill and you'll earn up to $600 in device protection (subject to a $25 deductible). The coverage extends to devices that are damaged or stolen, but not those that are lost.
As a Visa card, additional coverage includes emergency card replacement, auto rental collision damage waiver, roadside dispatch, travel accident insurance and travel and emergency assistance services.
Best way to use this card
Although the Wells Fargo Rewards Card doesn't offer anything unique when compared to several other cards, it does provide three helpful features for the right cardholder.
First is the introductory 0% APR for 15 months. Yes, many other cards advertise similar offers, but few feature the 15-month timeframe. Should you plan on making any large purchases, this is a card worth considering.
The 0% APR for 15 months offer extends to balance transfers as well. It's worth noting that you will need to make any transfers within 120 days of opening your account to qualify for the introductory APR. Balance transfers also carry a 3% transfer fee ($5 minimum). Should you wait to transfer a balance after 120 days, the fee increases to 5% per transfer ($5 minimum). In spite of the fees, if you're looking to buy yourself some time to pay down a substantial debt, it's hard to argue against having nearly a year and a half to do it.
Second, the Wells Fargo Rewards Card is very much about timing. To make the most of the six-month 5x points introductory offer, you'll want to acquire the card when you know your gas, grocery or drugstore purchases will be at their highest. From summer road trips to holiday entertaining, if planned correctly, you'll quickly accumulate the points to make this card worthwhile.
Finally, there is a lesser-known benefit of this card for you and others who are members of the Wells Fargo Go Far Rewards program. With the ability to gift your points or to or pool them with other members, you can reach common redemption rewards faster.
Ultimately, those that stand to gain the most from this card are those that already have accounts with Wells Fargo. It keeps overall insight and management of your finances simple, while at the same time earning you points and rewards. Further, if you're a new Wells Fargo customer who's carrying a sizable balance from another card issuer, you can take advantage of the 0% APR transfer offer along with any other new client perks.
In a nutshell
It may not be the most glamorous of rewards cards, but the attractive introductory offers of the Wells Fargo Rewards Card are perfect for those with big purchases, big balances or specific spending needs on the immediate horizon. Even after those initial offers expire, your point accumulations remain uncomplicated and easily redeemable. Further, you have plenty of flexibility with how your points are redeemed.
If you're looking for simplicity in a rewards card, need extra help paying down debt, don't want to pay an annual fee or you're a new Wells Fargo customer wanting to consolidate your financial footprint, the Wells Fargo Rewards Card is a good choice.