Wells Fargo® Platinum Credit Card Review
August 19, 2019Tara Mastroeni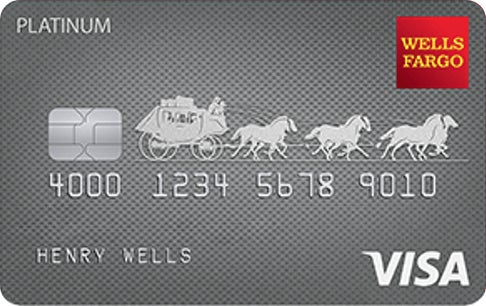 Best for: people who are looking for a long introductory period on their APR
For anyone who has a big purchase coming up in the future, the Wells Fargo® Platinum Card ranks at the top of the list of smart picks. By offering no annual fee and a strikingly long 0% introductory APR period of 18 months, this card will make itself your go-to for financing your big expenses.
The basics of the Wells Fargo® Platinum Card
APR: 0% intro APR on purchases and balance transfers for 18 months, then the standard variable purchase APR of 17.74% to 27.24%.
Annual Fee: $0
Reward Rates: This card doesn't offer rewards in the traditional sense, but does offer some perks (see below).
Intro Offer: The Wells Fargo Platinum Card does not come with an intro bonus at this time.
The Wells Fargo® Platinum Card's standout features
There's a 0% introductory APR on new purchases for 18 months: While the introductory APR time period on most credit cards only lasts six to ten months, this card lets you escape paying interest for an impressively-long 18-month period.
Travel benefits: This card's travel benefits include auto rental collision damage waiver, roadside dispatch, travel accident insurance and travel and emergency assistance services.
Cell phone protection: Enjoy up to $600 of cell phone protection against damage or theft when you pay your cell phone bill using your Wells Fargo card.
Best way to use the Wells Fargo® Platinum Card
This Wells Fargo Platinum Card's strengths lie in its ability to allow you to pay down balances without incurring interest. With an introductory rate of 0% APR for 18 months on both new purchases and balance transfers, it's a great match to help you manage life's big expenses. Plus, because there is no annual fee, this card won't cost you anything to keep in your wallet.
While it doesn't offer any true rewards such as cash back, miles or an alluring intro bonus, there are a few benefits of which cardholders can take advantage while paying down their debt.
In a nutshell
The Wells Fargo Platinum Card is a solid option to have in your roster. It's 0% introductory rate APR on new purchases and balance transfers make it a strong choice, especially for those who have some large expenses looming on the horizon. Combine its $0 annual fee and a host of protective benefits from travel insurance to cell phone coverage, and there are more than a few benefits to be had from becoming a cardholder.
However, it's lack of rewards mean that this card may not be the best fit for your circumstances. You could always use the Wells Fargo Platinum card for paying down large balances and keep another rewards-based card for your everyday purchases.
That said, if you want a card that supplies both a generous intro APR period and rewards benefits, you may want to look towards the Wells Fargo® Cash Wise Visa Card. It offers a 15-month introductory APR period, but you get 1.5% cash back for every dollar you spend.