U.S. Bank Flexperks® Travel Rewards Visa Signature® Card Review
February 13, 2020Stephen Altrogge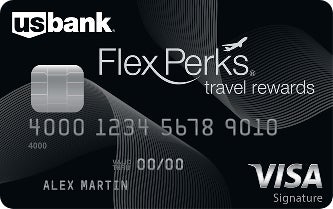 Best for: Individuals who book a lot of airline tickets or those who just want a dependable travel rewards card without hefty annual fees
The U.S. Bank FlexPerks® Travel Rewards® Card takes a slightly different approach to credit card travel rewards — and it does so without substantial yearly fees. Those who fly a lot will appreciate this card more than most. Even if you're not a frequent flyer, the FlexPerks card allows you to earn points from some of your most common, everyday purchases, including your cell phone bill.
The basics
APR: 15.99%-25.99%

Annual Fee: $0 for the first 12 months, $49 annual fee after that. U.S. Bank Platinum Checking customers will have their second year waived as well.

Rewards Rates: Earn two FlexPoints for every $1 spent on airline purchases, gas or groceries (within each monthly billing cycle, whichever category you spend most on automatically earns the double points, as well as two FlexPoints for every $1 spent on most cellular phone service expenses (including device purchases and your monthly cellular bill) and charitable donations. Earn one FlexPoint for every $1 spent on everything else.

Intro Offer: 25,000 bonus FlexPoints (redeemable for $375 in travel expenses like airfare, car rentals and hotels) after you spend $2,000 in eligible net purchases on your card within four months of opening your account.
Standout features
Redeem FlexPoints for cash back, gift cards, live events, merchandise, statement credits, travel and more.

For the ultimate in convenience, you can utilize your mobile device to redeem your FlexPoints instantly for almost any purchase with Real-Time Mobile Rewards.

FlexPoints are redeemable through U.S. Bank's online reward site without the need to sort through a third-party site or various eligibility requirements.

Receive reimbursement for up to $25 toward baggage fees or in-flight food and drink for each air travel award ticket.

You can start redeeming points once you reach 1,000 FlexPoints.

Peace of mind when traveling with no foreign transaction fees, rental car coverage, lost luggage reimbursement and travel and emergency assistance.

Receive partner rental car discounts at Alamo, Enterprise and National car rental services.

Award tickets earn frequent flyer miles if you are a member of that airline's loyalty program.

FlexPoints from multiple accounts can be combined into a single account, and you can transfer your FlexPoints to another individual without a fee or additional costs.

As part of the Visa Signature credit card network, cardholders receive additional benefits including Visa Signature concierge service, extra travel perks like luxury hotel room upgrades and member exclusives including presale tickets for concerts, sports or other live events.
Best way to use this card
To take full advantage of the FlexPerks card, it comes down to how much you fly. First, if you're a frequent flyer, you'll accumulate double points much faster than with gas or grocery purchases with this card.
Second, redeeming your FlexPoints for airline tickets ensures you get the most value from your points. On average, redeeming points for non-travel perks, such as cash back or through major retailers, gives them a value of approximately one cent. Nothing extravagant, but the list of retailers is impressive and includes Apple, Bose, Dell, North Face, Oakley and Sony. Redeem your points for gift cards from vendors such as Amazon.com, Best Buy, Gap, Land's End, Macy's, Office Depot, Pottery Barn, Saks Fifth Avenue and Starbucks.
Redeem the rewards for travel through U.S. Bank's online travel portal for items such as hotels or rental cars, and the value is roughly one and a half cents. Not too bad, especially when you consider options like Fairmont Hotels, Hyatt Hotels & Resorts, Marriott Hotels and Ritz-Carlton Hotels and Resorts.
Use your FlexPoints towards air travel, and the value jumps to four cents per point, redeemable with practically every major carrier (through U.S. Bank's travel portal). Plus, you get the added $25 travel allowance on those tickets. Because of this, even if you're not a frequent traveler but want the advantages of reward card perks when you do take a trip, the FlexPerks card is worth a serious look.
Do you drive a lot as part of your job or everyday routine? Or regularly feed a large family? Or own a small business that has to cover a number of cell phone bills? The double points you stand to earn on gas, groceries or cell phone bills can quickly add up. And, if you have a charitable heart, it is also rewarded two times the points. Add to that the standard FlexPoint accumulations along with the low annual fee ($0 for the first year), and the FlexPerks suddenly becomes a considerable value.
One caveat to all of this is that the FlexPoints do expire five years from the end of the quarter in which they were earned. So when you do earn them, make sure you use them.
In a nutshell
Many of today's top travel rewards cards come loaded with ways to both earn points and redeem them. Admittedly, many of their reward structures are more impressive than the FlexPerks card. Those same cards, however, often come with much higher annual fees. But by narrowing its scope and structure, the U.S. Bank FlexPerks Travel Rewards Card offers a ton of value to the right users, without them having to make a high dollar commitment. Ultimately, the card's flexibility lies in its appeal to those with slightly more rigid travel needs. If you fly multiple times a month or vacation once or twice a year, the FlexPerks card is an excellent travel companion.