U.S. Bank Cash 365 American Express® credit card review
March 4, 2020Kristie Kwok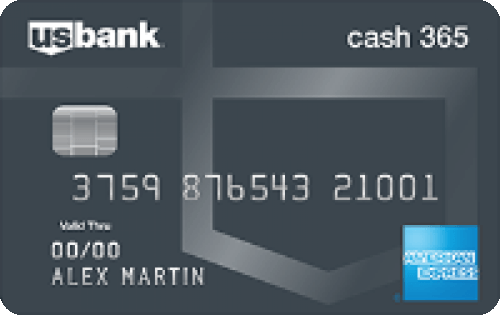 Best for: Credit card shoppers looking for a product with simple rewards and practical perks.
While its 1.5% cash back rate won't set it apart from rivals, the U.S. Bank Cash 365 American Express® Card comes with some practical secondary benefits that are highly appealing. Some examples are returns protection, an extended warranty and best-value guarantee for your purchases, as well as coverage and assistance on your travels.
Additionally, the U.S. Bank Cash 365 American Express is a real hit with anyone who loathes paying an annual fee or having to keep track of rotating rewards. The flat-rate cash back system makes it easy to use all purchases rather than having multiple cards for different kinds of spending. And if you happen to have a U.S. Bank checking or savings account already, then you'll love the added flexibility you'll get when redeeming your rewards.
The basics
APR: 0% introductory APR on balance transfers for the first 12 billing cycles, then a standard variable APR of 15.49%-25.49%.
Annual fee: $0
Rewards rates: 1.5% cash back on all purchases, with no caps on the amount of rewards you can earn.
Intro offer: U.S. Bank will award a one-time cash bonus of $150 if you spend $500 in eligible purchases within 90 days.
Standout features
Rewards that won't require any work: You won't need to keep track of bonus categories, and rewards will be posted to your account automatically.
Redemption that suits you: You'll have three cash back options to choose from. Receive them as statement credit or direct deposit into your U.S. Bank checking or savings account with no minimum redemption requirements, or redeem in the form of a rewards card if your cash back balance is at least $20. 
No-expiration rewards: Your rewards won't expire as long as your account remains open, so save them for when you need them most.
Shop with confidence: Enjoy extended warranty for eligible purchases and returns protection if a merchant refuses to refund an undamaged item. Additionally, if you bought a qualifying item with your U.S. Bank Cash 365 card and find a lower price within 30 days, you can get the price difference reimbursed.
Peace of mind when you travel: When you're more than 100 miles from home, you can get 24-hour access to medical, legal and financial assistance. You'll also receive complimentary North American car rental loss and damage insurance and travel accident insurance. 
Best way to use this card
Of course, the best way to get more rewards is to use your card as often as possible. The average household expenditure was around $61,000 in 2018, according to the U.S. Bureau of Labor Statistics. If your expenditure is in line with the national average and you pay one-quarter of it (or $15,250) using your U.S. Bank Cash 365 card, then you'll be awarded around $228 in cash back. It's a great result if you consider the minimal effort required and the zero annual fee.
Transfer an existing balance
Another way to get your most out of the U.S. Bank Cash 365 card is to take advantage of the 0% introductory APR offer. If you have an existing balance on another card, transferring it can potentially save you a lot of interest. Just make sure you factor in the 3% balance transfer fee, as this may nullify any savings you're expecting.
Capitalize on intro offer
The $150 cash bonus is an easy win if you meet the spending minimum of $500 within 90 days. This target should be achievable for many, especially if you use your card for routine spending such as bills, transport/gas and food. If you think this will be a problem, you can time the opening of the card for when you know you'll have a larger purchase coming up.
Utilize secondary benefits
Whether you're shopping or traveling (or both), keep in mind that there are secondary benefits available with your card, like returns protection, extended warranty, a best value guarantee and travel assistance. If you get into the habit of using your U.S. Bank Cash 365 card for bigger purchases, then you'll be in a great position to take advantage of all these benefits.
Pairing with another credit card
Although the U.S. Bank Cash 365 card is great on its own, it also makes an excellent companion card if you've already got a rotating rewards card and want to earn more than 1% for your spending outside bonus categories.
Since Amex cards are not as widely accepted internationally, and there's also a 2% or 3% fee on foreign transactions, you may want to pair this card with a travel rewards card that has no foreign transaction fees, like the Bank of America® Travel Rewards Visa credit card.
In a nutshell
The U.S. Bank Cash 365 American Express credit card is designed to appeal to the masses. It's a clear winner if you'd rather not spend any time on tracking rewards calendars or calculating redemption values of rewards options. You'll get an easy-to-understand rewards earning structure, complete with simple cash back alternatives.
Unlike other cards without an annual fee, this card offers some useful secondary perks for your shopping and travels. What's even better is the $150 one-off cash bonus to sweeten the deal if you meet the easy-to-reach $500 spending minimum. This card can be used as a standalone card for all your purchases or paired with a rotating rewards card so you can get more for your spending on non-bonus categories.