Surge Mastercard Credit Card Review
December 17, 2019Stephen Altrogge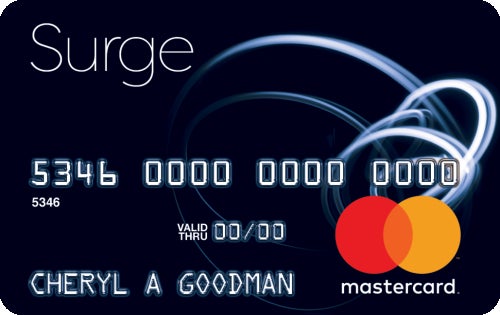 Best: For those who need to start, improve, or rebuild their credit score and recognize they can stay under the given credit limit
If you're new to credit cards or don't have a good credit rating at the moment, the Surge Mastercard® allows you to build credit by demonstrating you can employ reliable and responsible financial behavior within the credit limits the card sets. It doesn't provide rewards points or cash back, but it's a good foundational step toward more spending power and a potentially higher credit score so you can get a rewards card in the future.
Surge Credit Card basics
APR: 29.99% 
Annual Fee: None, but a security deposit is often required.
Reward Rates: None. 
Intro Offer: Initial credit limit of $500 (with payment of security deposit if required). No introductory bonus points or intro APR rates.
Surge Credit Card standout features
Higher initial credit limit of $500 compared to some other no-rewards credit cards.
Depending on the creditworthiness rating you're given by Celtic Bank, a deposit might not be required (but could be as much as $500).
Potential credit limit increase after just six months for using the card responsibly and if all payments arrive on time. If you demonstrate trustworthy behavior, you're more likely to be approved for a higher credit limit. 
The $0 fraud liability means that you won't be held responsible for unauthorized charges made on your Surge credit card. With so many credit card numbers stolen each year, this is particularly reassuring. 
Monthly reporting to all three major credit bureaus makes the Surge credit card an effective tool to build your new or poor credit rating. Continental Finance reports your payments directly to TransUnion, Experian and Equifax to enable you to build a record.
A monthly credit score when you enroll in e-statements. Every month you can check your score, and you can see the impact that certain actions have on your credit score, such as making monthly payments on time each month. This will help you more fully understand how your financial actions either improve or harm your credit score. 
The online account management system lets you view statements, make payments and check due dates. The mobile app makes it very easy to keep track of these.
"Knowledgebase" articles guide various credit topics such as credit utilization and how to build credit.
Best way to use the Surge Credit Card
Use this card to prove you are trustworthy with credit. It's also ideal for improving or starting to earn a credit rating. Although it's not technically a "secured" credit card (which requires a security deposit), the card issuer, Celtic Bank, determines whether they'll require a security deposit (and the deposit's size) based on your credit history, lack of credit rating or other financial situations. If you do have to pay a deposit, it may cost you up to $500.
You must stay under a specific credit limit when you use the card, generally up to $500 maximum per month. Yes, this is a low credit limit, but remember, this card will help you build your credit. Don't charge any more than you can pay off each month to avoid that extra-large APR rate, which is very high for a credit card. That's a powerful incentive to never go over the credit limit the issuer has set for you. You always need to remember that this card is simply a step forward to help you improve your credit score and eventually move to a credit card that provides rewards, so treat it as such.
You can use the Surge card anywhere that Mastercard is accepted. Make sure you make every single payment on time and carefully monitor the amount you are charging each month to stay within your upper limit. After six months of making on-time payments, you can ask the card issuer for a higher credit limit. Using a card like this one with care is important for establishing a good credit record, and taking the required successful steps with a Surge card can result in better opportunities in the future (such as a card with a lower rate and more rewards).
Take full advantage of the online account management tools, free monthly credit reports, the mobile phone app and the library of Knowledgebase articles to keep your record clean and grow in your overall understanding of what leads to earning a stellar credit report. With regular use, the card can help you up your credit game in no time.
Surge Credit Card in a nutshell
The Surge Mastercard is a specialized card issued by Celtic Bank and serviced by Continental Finance Company. You are likely to qualify to receive this credit card with no credit history or even poor credit history. Still, you may be required to put down a deposit first if the card issuer decides they need some assurance you will use it responsibly.
You won't earn any rewards points or cash back with the Surge credit card, but it will give you the tools and the process to either establish a credit rating for the first time or improve poor credit history. Because you can establish a solid credit card history in just six months, this is the type of card that opens doors for those who might have an otherwise shaky financial history.