Southwest Rapid Rewards®Performance Business Credit Card Review
July 3, 2019Michael Evans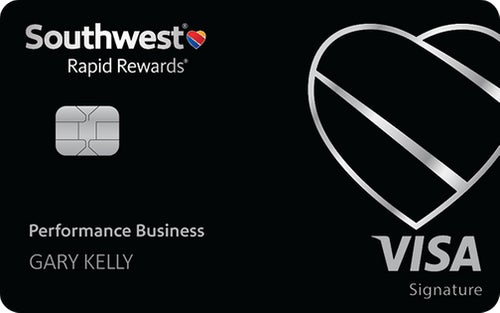 Best for: businesses with employees who travel often, particularly overseas
Southwest Airlines passengers can rack up serious rewards points with the Southwest Rapid Rewards Performance® Business Credit Card, offered by Chase. Businesses can earn rewards points without even trying, simply by using the card to pay monthly expenses. Better yet, the Rapid Rewards credit card offers benefits that go beyond travel expenses.
The basics of the Southwest Rapid Rewards Performance® Business Credit Card
APR: Variable 18.24%-25.24%
Annual Fee: $199, applied to your first statement.
Rewards Rates: Chase rewards three points for every dollar spent on Southwest Airlines purchases, two points on every dollar spent on search engine and social media advertising – including cable, internet and phone services – and one point for every dollar spent on other purchases.  Points are unlimited, and never expire.
Intro Offer: Earn 80,000 bonus points after spending $5,000 within the first three months of the contract.
The Rapid Rewards Performance Business Card's standout features
Earn 9,000 bonus points on the anniversary of your contract.
Unlimited reward seats to destinations in the Caribbean, Central America, Mexico and the United States, with no blackout dates.
Up to $3,000 reimbursement for cardholders and their immediate family members to cover checked or carry-on luggage damaged or lost by a carrier.
Up to $100 per day, for a maximum of three days, to reimburse you for clothing and toiletries purchased due to baggage delays of more than six hours caused by the carrier (only for purchases using the Rapid Rewards credit card).
Purchase benefits extend the warranty by one year on eligible goods produced by U.S. manufacturers (only for purchases using the Rapid Rewards credit card).
Purchase protection provides 120 days coverage against damage or theft, for up to $10,000 per claim. 
No foreign transaction fees.
Additional employee cards for the same account. Employee cards earn the same rewards, at no additional cost.
Receive four upgrade boardings each year.
Save money with inflight Wi-Fi credits.
Enjoy Global Entry or TSA Pre✓ fee credit, with a maximum benefit of $100 every four years.
Best way to use the Southwest Rapid Rewards Performance® Business Credit Card
Cardholders can rack up reward points quickly by using the Rapid Rewards credit card to pay for regular business expenses. The program complements the types of expenses many businesses already pay by credit card. For instance, most cellphone accounts allow you to keep a credit card on file to pay your monthly bill. Using your Southwest Rapid Rewards card to pay for goods and services wherever you have a card on file can help you build points quickly and effortlessly. You might be surprised by how many points you can earn in the first year.
Buy $5,000 worth of office supplies to earn 5,000 points. Earn 80,000 bonus points for spending $5,000 in the first three months. Spend $50,000 on social media advertising to earn 100,000 points. Book $20,000 in Southwest Airlines travel to earn 60,000 points. Pay your company's monthly $1,000 phone bill to earn 20,000 points over 12 months. That adds up to 265,000 rewards points, just for using the Rapid Rewards credit card.
Use the Southwest Rapid Rewards Performance credit card to avoid certain travel fees. If you and your employees take 100 flights per year, you could save $800 in inflight Wi-Fi fees. And if you need an extra bag on each flight, you can save $7,500 in excess baggage charges. If you typically pay $50 in foreign transaction fees every time you travel abroad, using the Rapid Rewards Performance card can save you $5,000 over 100 trips.
In a nutshell
The Southwest Rapid Rewards Performance Business Credit Card is a great option for business travelers who often fly with Southwest Airlines. You can use Rapid Rewards points to purchase Southwest Airlines seats for yourself or someone else. Ordering extra cards for your employees enables you to build your points balance even more quickly. With no blackout dates and unlimited seats, you can use points for your next Caribbean vacation or holiday gathering.
Lost luggage reimbursement and no foreign transaction fees perks appeal to frequent travelers, and inflight Wi-Fi credits and waived excessive baggage fees help Southwest flyers hang on to their cash. The card's purchase protection and extended warranty benefits provide protection for your purchases even when you are on the ground.
The Rapid Rewards credit card offers great benefits for frequent Southwest flyers. But if you do not often fly on Southwest, you may prefer the flexibility of a travel rewards card such as the Chase Sapphire Reserve.