Bank of America® Premium Rewards® Visa credit card Review
December 15, 2019Claire Bough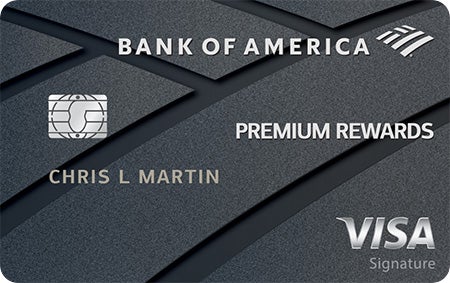 Good: If you have a high credit score and are looking for a lot of rewards tied to your credit card purchases
Better: For current Bank of America® Preferred Rewards members looking to maximize travel
Best: For Bank of America® Rewards members with at least $100,000 in their accounts and a high spending threshold
The Bank of America® Premium Rewards® Credit Card provides some of the best returns among its card competitors. For anyone who loves to travel, this card offers benefits on everything from flight and dining rewards, to luxury hotel perks and added travel protections.
The basics
APR: 18.24% to 25.24% standard APR, dependent on your initial credit score from account opening for purchases and balance transfers, then variable dependent on the market-based prime rate.
Annual Rates: $95
Reward Rates: Redeem at least two points for every dollar spent on travel and dining, and 1.5 points for every dollar spent on other purchases. Users who are also members of the Bank of America Preferred Rewards program also receive higher rates. 
Intro Offer: Earn 50,000 bonus points if you spend at least $3,000 in the first 90 days of opening an account. 
Standout features
Most of this card's standout features are benefits for travelers – whether for business or pleasure.
No foreign transaction fees: Save a little money while you're traveling by avoiding the added fees that still remain for most credit cards. 
Travel protection: Enjoy peace of mind with travel insurance protection that provides varying levels of reimbursement depending on the issue.
Travel upgrades: Enjoy up to $200 in travel statement rewards, $100 for perks like seat upgrades and in-flight services as well as a separate $100 for TSA Pre-Check.
Points don't expire: This is helpful if you ever have a stretch where you're spending less than usual or saving points for a later.
Automotive protections: Get automotive protection for situations where you may need car rental coverage or roadside assistance.
Best ways to use this card
The best customer for the Bank of America Premium Rewards Card is a Bank of America account holder who's already a Preferred Rewards member. Flexibility is the big win here. You do need at least 2,500 points to start redeeming. But when you do, you can redeem for cash back, as a statement credit to your credit card, deposits into your Bank of America® accounts or a gift card.
Keep the 18.24% to 25.24% APR and $95 annual fee in mind and plan ahead. If you opt for the Premium Rewards, be sure you're spending responsibly, on-budget, and paying on time.
In a nutshell
If you're a frequent traveler with a solid credit score and good budget, this card is a great option. It's especially sweet if you're a travel perks enthusiast.
If you're still building your credit or you're not a huge traveler, there are different card options that may work better for you. For example, the Discover it® Secured card has lower fees and a lower APR overall. Though it doesn't provide the same amount of perks, you'll still enjoy high cash back rewards at gas stations and restaurants.