Mastercard Titanium Credit Card Review
December 18, 2019Stephen Altrogge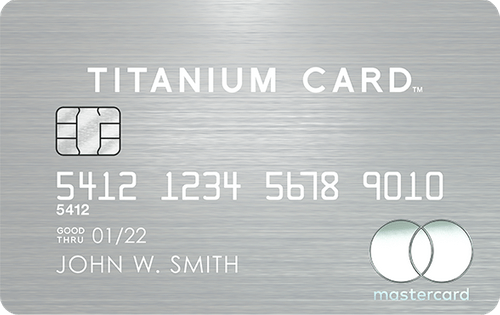 Best: For those with excellent credit whose top priorities are frequent travel or cash rewards  
For those who favor earning points for air travel, the Mastercard® Titanium Card™ offers more value than many of its competitors. The rewards program for the Mastercard Titanium allows 1% cash back on purchases like many other cards offer. Still, points can be exchanged for twice the value (2%) when used for travel redemptions instead. You need to have an excellent credit rating to qualify for this card. The card itself is unique and impressive — made of brushed stainless steel.
The basics
APR: 0% introductory APR for a whopping 15 billing cycles for balance transfers made within 45 days after you open the account. After that, the standard 16.49% variable APR applies. The standard APR on the unpaid balance of all purchases is 16.49%; this rate can vary with the market based on the prime rate.
Annual Fee: $195
Reward Rates: You will earn 1% cash back on all of your purchases, but when you redeem those points for travel instead of cash, they double automatically to become worth 2% back.
Intro Offer: None
Standout features
Airfare redemption rate on this card is higher than many other travel cards; it's twice the point value if you redeem points for travel instead of taking a cash reward. If you fly quite a bit or want to fly more, this card is an excellent option. 
Travel benefits abound when you get this card, such as auto rental collision waiver, travel accident insurance and travel assistance services, baggage delay insurance, trip cancellation and interruption insurance, and cell phone protection. All these perks provide extra assurance while traveling.
Receive 24/7 Luxury Card Concierge assistance offered for guidance with travel bookings and various personal requests to help you save time and experience exceptional service. 
Mastercard ID Theft Protection helps you to monitor your identity risk level and respond to suspicious activity alerts from an easy to use online dashboard. With identity theft on the rise, this is especially reassuring. 
With ShopRunner membership, cardmembers receive free two-day shipping on purchases of eligible items from participating retailers, free shipping on returns of eligible items and exclusive offers from participating ShopRunner retail partners. If you enjoy shopping online, this is a particularly enticing perk. 
Mastercard Global Service gives you 24-hour assistance if you lose your card or it's stolen. You can also get an emergency card replacement or an emergency cash advance for peace of mind while away from home. No matter where you travel, Mastercard Global Service has you covered. 
The unique card is made of brushed stainless steel on the front with a carbon back, and it highlights your exclusive Titanium membership status. This perk is primarily for show, but it still makes you feel somewhat special like you're a VIP. 
Best way to use this card
Primarily, you should think in terms of using all the points you earn for travel redemption. Specifically, use this card whenever you book flights. This strategy will provide you with the biggest return on purchases made with the Mastercard Titanium Card since any points earned are worth twice as much as the cash rewards you're eligible to get back.
While the $195 fee may seem significant for some, as long as you spend at least $10,000 a year and choose to redeem your points on travel, you'll see a return on your investment. And with the number of additional travel benefits and services that automatically come along with the Titanium card that will help protect you from the typical travel complications, the card will definitely be worth the upfront cost.
The other significant benefit of this card is the extra generous 0% APR transfer balance. There's no APR charged for a full 15 billing cycles. You'll want to take advantage of that offer to move balances over from other credit cards, which allows you to stretch out the number of months available to make payments without incurring any interest charge. Just remember to complete this process within 45 days of opening your account. Otherwise, you receive a fee for the standard balance transfer rate.
Don't forget, though, that the 0% APR applies only to balance transfers, not to new purchases. You'll be paying the standard variable APR 16.49% on those. As with all credit cards, make sure to pay your balance off every month to avoid high-interest charges.
In a nutshell
Travel enthusiasts will love the payback from the Mastercard Titanium Card since it doubles the point value of everyday purchases when redeemed for travel instead of cash. Many other travel cards only offer 1% back. The annual fee of $195 is higher than many cards, but the travel points can easily offset that cost. The money you save on flights will surpass the annual fee relatively quickly. You'll have greater peace of mind on your journeys, too, because of all the additional benefits the card provides to travelers. You can know that if something goes wrong, Mastercard has your back.
Any points you don't use for travel will still add up, and you can redeem them for 1% cash rewards. The card itself is state-of-the-art and considered a luxury credit card. It looks and feels impressive with its brushed stainless steel front and heavier than average weight. Some believe that owning a card like this gives you a higher level of customer service and the advantage of luxury perks, which justifies the higher annual fee. If your credit rating is less than excellent, you may need to look elsewhere to qualify for card ownership.