Marriott Bonvoy Brilliant American Express Credit Card Review
December 18, 2019Stephen Altrogge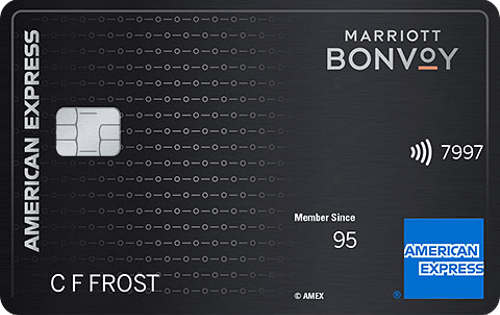 Best: For earning maximum rewards points at Marriott Bonvoy hotels, U.S. restaurants and flights booked directly with airlines
The Marriott Bonvoy Brilliant™ American Express® Card is a boon for travelers and fine dining devotees. The number of points offered for hotels, restaurants and flights booked directly with airlines is higher than many of the other travel rewards cards. You'll earn generous points on all purchases other than travel, too. Points add up very quickly when used for travel and can be redeemed for free overnight stays at participating hotels or used for statement credits instead.
The basics
APR: 17.24% to 26.24%. Transfer balance APR is the same rate, but transfers also entail certain fees. Cash advance APR is a variable 26.74% and it also entails fees.
Annual Fee: $450
Reward Rates: You'll earn one point per dollar for ordinary eligible purchases. One additional point per dollar is added for airfare charged directly with airlines or at restaurants located in the U.S. for a total of three points. You get four additional points per dollar spent when you charge directly with participating Marriott Bonvoy properties, Marriott retail establishments or Marriott online stores wholly owned or managed by Marriott International, Inc. and its affiliates. This includes online purchases of Marriott gift cards. These Marriott purchases add up to a total of six points.
Intro Offer: You will earn a plentiful 75,000 Bonus Marriott Bonvoy Points when you make a minimum of $3,000 in purchases during the first three months of owning the card.
Standout features
For each year that you're a member, you will receive up to $300 in statement credits for purchases at participating Marriott Bonvoy hotels made on your Marriott Bonvoy Brilliant American Express Card during the year. Even incidental charges made at restaurants, spas and other enterprises located within the hotel property and charged to your room are considered Marriott Bonvoy purchases.
Get a "Free Night Award" (up to 50k Marriott Bonvoy points). When you renew your Marriott Bonvoy Brilliant American Express Card, you'll get a "Free Night Award" in the form of an e-certificate, which you can then redeem for a one-night stay in certain rooms at participating hotels.
A $100 Marriott Bonvoy Property Credit is available when you've booked a minimum two-night stay at The Ritz-Carlton or St. Regis. This booking entitles you to a property credit of up to $100 to use on eligible purchases on the property during the time you stay there.
You'll be eligible to receive a maximum of 15 "Elite Night" credits within 60 days after opening your account. Note that these credits are not the same perk as the complimentary night stays you get each year, but they give you opportunities to experience another level of privileges and perks for travel.
American Express Preferred Seating and American Express Presale tickets may be available to you as an American Express Card Member and make your travel more pleasant and less harried.
Get a statement credit every four years for the fees you pay associated with Global Entry or TSA PreCheck.
Best way to use this card
Air travel, hotel stays and fine dining charged to the Marriott Bonvoy Brilliant American Express Card will give the card user the most plentiful rewards. Use this card exclusively throughout the year for making any type of purchase, but especially use it for stays at Marriott properties to accumulate the special rewards for travel charges. These points accumulate automatically, and after many uses, you'll be able to experience low or no-cost hotel stays or related purchases by utilizing the points you've earned. Check out the "Elite Night" credits to see what aspects of your travel can upgrade without additional expense.
Be sure to aim for at least $3,000 in purchases during the first three months you have opened this account. Doing so will earn you a very generous bonus of 75,000 Bonus Marriott Bonvoy Points. Those points, along with the yearly "Free Night Award" for renewing your membership and a variety of statement credits, all help to offset the higher-than-average annual fee of $450.
Don't forget to take advantage of the statement credit for Global Entry or TSA PreCheck that's available once every four years, too. It can save you between $85 and $100 for a five-year membership. You will need high marks on your credit score to qualify for this highly rewarded card.
In a nutshell
Those who prefer the Marriott brand of hotels and who travel frequently are the best candidates for the Marriott Bonvoy Brilliant American Express Card. The annual fee of $450 is quite steep, but much of that cost is compensated for by a $300 statement credit awarded each year of membership. Add in the 75,000 intro bonus points you'll earn for spending $3,000 the first three months, and it's accurate to say that the rewards points already cover the annual fee.
This is not the card to choose if you can't afford the high annual fee, your credit rating is not first-rate, you don't travel very often or you don't believe you can manage a $3,000 purchase minimum in the first quarter after opening your account. While a travel rewards card sounds appealing, the casual traveler is probably better off getting a travel card that earns a flat rate of rewards points and carries no annual fee. A card like that is likely to be a better match for their lifestyle.