Capital One® Journey® Student Rewards Credit Card Review
August 19, 2019Dan Marzullo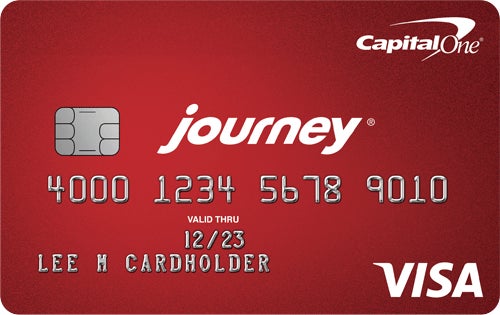 Best for: students who never miss a payment
Going to college can be one of the first big steps towards becoming an adult. Most young adults will experience what it's like to live outside of their parents' home for the first time in their lives. Part of growing up is also having your own credit card.
This Capital One credit card is designed for those who are eager and ready to learn. Geared towards students who are beginning their credit journey, you'll enjoy having all the perks this card has to offer.
The basics of the Capital One Journey Rewards Credit Card
APR: Variable 26.99% APR on purchases, balance transfers and cash advances.
Annual Fee: $0
Reward Rates:  Earn 1% on all purchases made with the Capital One Journey card. If you make your minimum payment on time, an extra 0.25% cash back will be added to your account. That means that you can earn up to 1.25% cash back on all purchases. 
Intro Offer: None
The Journey's standout features
Unlimited rewards and points never expire.
Automatic credit line increase. Credit lines can grow as you show credit responsibility. Simply make five on time payments and your credit line will be increased automatically.
Free credit score check. Look up your score as often as you want for free. Checking your credit score can help you determine if your credit habits are having a positive effect on your credit.
No foreign transaction fee. The majority of college students decide to travel at least once during their academic years. Rest easy knowing that you can use your card without ever worrying about foreign transaction fees.
Eno® assistant. Imagine having your own personal assistant who's always monitoring your account, alerts you when something is off, and answers any questions you have about your credit card. With Capital One, you've got Eno®, your own personal assistant.
Best way to use the Capital One Journey Rewards Credit Card
Learning to use your credit card responsibly is one of the many lessons you'll encounter as a student. Take full advantage of being able to earn unlimited cash back with Capital One's Journey Student credit card. It doesn't matter if you're getting that much-needed laptop or getting treats for your class; as long as you use your card you will be earning points.
Just as your classes will increase in difficulty, so will your credit line increase in amount. After making five on-time payments, you will see an increase in your credit line. This can come in handy not only in boosting your credit score, but also if you decide to travel abroad since you won't have to worry about any hidden foreign transaction fees. You'll just use your card just like any other day, and will still earn cash back along the way.
In a nutshell
The Capital One's Journey Student card's popularity comes as no surprise, as this card is targeted towards students who are eager to start a credit history. Take advantage of up to 1.25% cash back on every single purchase you make, as well as the peace of mind knowing that you have Eno® constantly monitoring your account.
Regardless of your lifestyle, everyone deserves a chance to build their credit. Don't worry if your credit line starts low, because it will be bumped up after only five on-time payments. A student's life is full of journeys, and Capital One Journey Student credit card hopes to be with you every step of the way.