Ink Business Unlimited Credit Card Review
March 10, 2020Kristie Kwok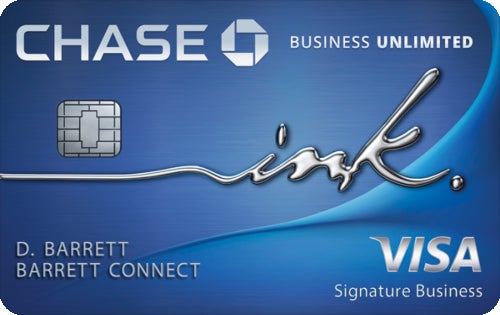 Best for: Business owners wishing to steer clear of an annual fee without compromising on rewards.
Not many business owners have the time to keep up with bonus categories or complicated rewards programs. If you're in the market for something simple, the Ink Business Unlimited Credit Card is worth considering. The 1.5% cash back rate isn't the highest you can get, but it's on par with other annual-fee free cards on the market. There's an excellent welcome bonus if you meet the minimum spending requirement, as well as a decent 0% intro APR period to save you interest.
You'll also get to be part of the Chase Ultimate Rewards program, which is arguably one of the best in the industry. This gives you the flexibility of claiming rewards not just as cash back, but also gift cards, travel and more.
The basics
APR: 0% intro APR on purchases for 12 months, then 14.74%-20.74% variable APR.
Annual fee: $0
Rewards rates: unlimited 1.5% cash back on all business purchases. Cash back rewards are tracked as points, and each $1 in cash back rewards is equal to 100 points. They won't expire as long as your account remains open.
Intro offer: $500 one-off bonus cash back if you spend $3,000 on purchases in the first three months. It'll be credited to your account six to eight weeks after qualification.
Standout features
Be part of a popular rewards program: Chase Ultimate Rewards is one of the best on the market, as you can redeem rewards in a number of ways, like cash back, gift cards, travel and more.
Free employee cards to earn faster: Earn from employee purchases while setting spending limits for security.
Relatively low-cost with no annual fee or over-limit fee, though there is a 3% charge foreign transactions.
Staying organized: Use reporting tools to track expenses, separate business and personal transactions, maintain records for tax reporting and integrate records with bookkeeping software.
Peace of mind when traveling with auto rental collision damage waiver, roadside dispatch and travel and emergency assistance.
Buy with confidence: Receive purchase protection for 120 days against damage and theft, and get 12 months extended warranty.
Build credit history for your business: As Chase reports to credit bureaus, your business can start to build its own credit history and be in a stronger position to negotiate financing terms in the future.
Best way to use this card
Using your Ink Business Unlimited card to pay for business expenses allows you to hang onto your cash for a little longer and improve cash flow, provided you repay outstanding balances in full each month to avoid interest charges. Since you'll get 1.5% cash back rate on all purchases with no caps or limits, it's a good idea to use it as often as possible to maximize cash flow and rewards benefits.
Qualify for welcome bonus
Depending on the spending pattern of your business, it may be worth applying for the card just before an upcoming business trip or a big purchase to ensure you can meet the $3,000 minimum spending requirement for the $500 welcome bonus.
Get employee cards for free
A great way to build rewards faster is to get additional cards for your employees. But be sure to set appropriate spending limits and review transactions regularly to protect your account.
Take advantage of Chase Ultimate Rewards
As mentioned, the Chase Ultimate Rewards program offers flexible redemption options. Get to know what they are and their redemption value so you can be rewarded in ways that suit you. Receive rewards points as statement credit or direct deposit if you prefer cash back. Book travel through Chase Ultimate Rewards and redeem for rental cards, hotel stays or flights with no blackout dates. Exchange them for gift cards — there are over 150 of them to choose from. If you need new Apple technology, considering paying for them with your points too.
Save interest with intro APR
With a 12-month 0% APR offer, you'll be able to save interest on new purchases before the APR reverts to the regular 14.74%-20.74%. It's great if you need to buy new equipment or another big-ticket item for your business.
Pair with another credit card
If getting bigger rewards is your priority, then consider pairing this card with another annual-fee free card, such as the Ink Business Cash credit card. The Ink Business Cash offers 5% cash back on up to $25,000 in combined spending per year at office supplies stores and on internet, telephone and cable services. You'll also get 2% cash back on your first $25,000 spent at gas stations and restaurants. So a possible strategy is to use the Ink Business Cash for spending on bonus categories up to the maximum limit, and the Ink Business Unlimited for everything else.
In a nutshell
The Ink Business Unlimited credit card is a no-brainer if you value simple rewards with no annual fee. You'll get a decent flat rate cash back on all your business purchases, with no bonus categories to keep track of. You'll also be part of a top rewards program with a variety of redemption options, including travel. Add to that a lengthy intro APR period and a generous welcome bonus, and you've got a highly practical product that delivers excellent value.
There's a host of business-friendly features too. Think free employee credit cards with customized spending limits, reporting tool for tracking expenses and integration of records with bookkeeping software, for example.
While low-maintenance is a key strength, those who want to get more from their business spending can pair this card with the Ink Business Cash credit card to get bigger cash back rewards without paying an annual fee.