HSBC Cash Rewards Mastercard Credit Card Review
February 14, 2020Doug Bonderud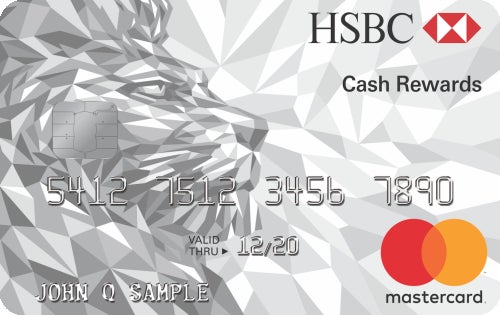 Best for: Earning steady cash back on everyday purchases.
The HSBC Cash Rewards Mastercard is designed to help you earn cash back on every purchase, every day. It also offers a substantial introductory offer — 12 months of bonus cash back — that's significantly longer than similar cards.
If you prefer category-based cash back, bigger bonuses with shorter timelines or points-based cards that help you earn travel rewards, consider other options such as the HSBC Premier World Mastercard. If you're looking to boost your cash back rewards for the first year and then enjoy the convenience of steady cash back anywhere, anytime, then the HSBC Cash Rewards Mastercard may be your best fit.
The basics
APR: 0% introductory APR on purchases and balance transfers for the first 12 months after account opening. Worth noting? To qualify, balance transfers must be posted within the first 60 days of account opening. Once the introductory APR period expires cardholders receive an APR of 14.49%, 18.49% or 24.49% based on creditworthiness.
Annual fee: None
Rewards rates: Earn 1.5% unlimited cash back on all new purchases made after your introductory bonus period.
Introductory offer: Earn 3% cash back on all purchases in the first 12 months, up to $10,000. After reaching $10,000, you'll automatically receive 1.5% cash back on all purchases.
Standout features
Introductory offer length: 12 months and $10,000 outpaces most cash back reward introductory offers, giving you plenty of time to maximize this bonus spending cap.
No bonus restrictions: With no categories to track or activations to manage, the HSBC Cash Rewards Mastercard makes it easy to earn while you spend.
Switch to points: If you prefer points, call the HSBC Customer Care number on the back of your card and ask about the HSBC Personal Rewards Program for details about points earning rates and values. Points can be converted to rewards points and redeemed for flight bookings, gift cards from more than 100 brands or merchandise purchased directly from the HSBC rewards site.
Mastercard Airport Concierge service: Enjoy 15% off any Airport Meet and Greet service when you're traveling — a personal Meet and Greet agent will escort you through the airport at more than 450 destinations.
Rental savings: Cardholders get 10% off at any rental property bookings made through onefinestay.
ShopRunner membership: Get a complimentary ShopRunner membership, which offers unlimited two-day shipping and free returns from more than 140 stores online. Simply select the ShopRunner option during checkout at participating online stores to access your account and enjoy free shipping.
Delivery discounts: Enjoy $5 off on all Postmates orders of $25 or more for food, drink and grocery deliveries.
Mastercard ID theft protection: If your card is compromised, Mastercard will provide one-on-one support until your claim is fully resolved.
Tap&Go: The HSBC Cash Rewards Mastercard supports contactless, Tap&Go payments wherever they're accepted — simply hold your card close to the terminal and then follow the prompts for faster purchases.
Smartphone protection: If your phone is stolen or damaged, claim up to $600 in reimbursements through your HSBC credit card account.
Soft credit check: Applying for this card won't impact your credit rating, even if you're declined.
Best way to use this card
This card is designed to make earning cash back easy — but it's worth your while to consider best use cases to maximize your benefits.
Consider the 12-month introductory bonus. You've got a year to spend $10,000 and enjoy 3% cash back, which means it's a good idea to reach this spending limit before time runs out. For example, you might choose to immediately make several large purchases for your home or invest in a much-needed vacation to temporarily bump your spending. You could also consider home renovations or large appliance purchases — here, the goal is to spend on items that were in your plan to purchase but offer bigger benefits when you buy them as part of the HSBC Cash Rewards Mastercard introductory offer. Also worth noting? You enjoy 0% purchase APR for the first 12 months, making it easier to pay off your balance while you're earning cash back.
If you already have another credit card and are looking to make the switch, take advantage of the HSBC Cash Rewards 12-month, 0% APR for balance transfers. While you won't earn cash back on these transfers, so long as they're completed within the first 60 days you have a full year to pay down the transferred balance without accruing interest, even as you're earning bonus cash back on your first $10,000 in purchases.
In a nutshell
The HSBC Cash Reward Mastercard is a great fit if your priority is straightforward cash back earnings on every purchase. With no categories to manage and extra benefits on shopping and travel spend, this card is a great entry point into the world of cash back cards. It also boasts one of the best bonus offers on the market, giving you 12 months to earn double cash back at 3% on all purchases up to $10,000. Combined with no annual fee and 0% purchase APR for the first year, this card is a solid choice if you've got high-value purchases on the horizon and want to make the most of your spending.
With a soft credit check application process and variable APR rates from 14.49% to 24.49%, this cash back card offers the potential to come in significantly below standard APR if your credit score is solid.
Bottom line: This card is best for earning steady cash back on everyday purchases, and can help boost the value of up-front spending with a 12-month, double cash back bonus.