Hilton Honors Surpass® Credit Card Review
August 1, 2019Kacie Goff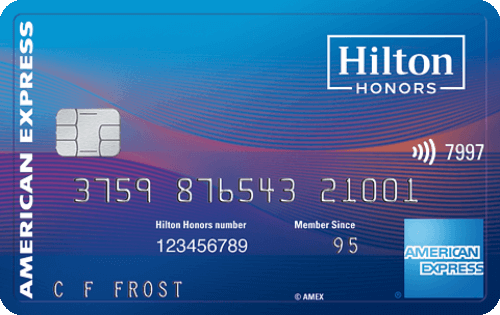 Best for: frequent travelers who stay nowhere but Hilton properties
Attention, Hilton loyalists: we've found your dream card. The Hilton Honors Surpass® from American Express blends serious Hilton perks and rewards with all of the benefits you expect from Amex. And with an annual fee of just $95, it's definitely worth adding to your wallet. Let's review the card's highlights.
The basics of the Hilton Honors Surpass®
APR: 17.99% to 26.99% variable APR
Annual Fee: $95
Rewards Rates: 12 Hilton Honors bonus points for every dollar spent at Hilton hotels and resorts; six Hilton Honors bonus points for every dollar spent on U.S. restaurants, supermarkets and gas stations; three Hilton Honors bonus points on all other eligible purchases
Intro Offer: Get 130,000 Hilton Honors bonus points plus a free Weekend Night Reward when you spend $4,000 with your card in the first four months (offer available through 8/28/19)
The Amex Hilton Surpass card's standout features
Hilton status: With the Hilton Honors Surpass card, you get instant Hilton Honors Gold Status. And if you use it for $40,000 of eligible purchases in a calendar year, you get Hilton Honors Diamond status through the end of the next calendar year.
Travel perks: This credit card doesn't have any foreign transaction fees and gives you preferred seating on flights. Plus, it gets you complimentary access to over 1,000 airport lounges with Priority Pass™ Select membership. And with American Express's Global Assist® Hotline, you have 24/7 access to legal, medical, financial and other services whenever you're more than 100 miles from home. 
Purchase protection: Use this card on eligible purchases and Amex extends their warranty by up to two additional years (provided the original warranty was five years or fewer). And you get protection for returns. If you try to return an eligible item within 90 days of buying it and the retailer won't accept the return, American Express will refund you up to $300 per item and up to $1,000 in a calendar year. 
The best way to use the Hilton Honors Surpass from American Express
Obviously, you're going to make the most of your Hilton Honors Surpass card when you use it to book stays at Hilton properties. And that doesn't mean the hotel or resort has to have Hilton in the name. They have a wide range of brands in their portfolio. Embassy Suites, Waldorf Astoria, and Hampton are all Hilton brands.
To maximize your points, make it a point to book at a Hilton property whenever you travel — and don't forget to use your Hilton Honors Surpass card when you book. Book directly through Hilton, too. You won't get the extra bonus points if you go through a third-party booker.
But what if you want to rack up those points when you're not traveling? We have two tips for you. First, use your card for all large purchases. American Express offers their Pay It Plan It® service with the Hilton Honors Surpass card to make this easier than ever. The Plan It® feature allows you to split up your payments for large purchases for a fixed monthly fee. You can pay for them over time and still get all the rewards perks from your large purchase.
Secondly, if there's another person in your household who you trust with your plastic, the Hilton Honors Surpass credit card allows you to get another card in their name but still direct all the bonus points to you.
In a nutshell
If you're a Hilton fan, this credit card from Amex delivers a wide range of benefits worth your review. Most notably, the 12 bonus points per dollar spent at Hilton properties can really add up. And because the Hilton Honors Surpass blends major Hilton perks with all of the customer service, purchase protection and travel support that makes American Express a leading credit card brand, you'll get a lot of out of this card, especially considering the annual fee is under $100.
Ultimately, though, if you don't travel frequently and if you aren't a Hilton loyalist, you'll miss out on the best this card has to offer. It's custom-tailored to serve the frequent Hilton traveler. If that's you, look no further for a credit card that gives you major perks you'll actually use.