Hilton Honors American Express Business Card Review
March 20, 2020Doug Bonderud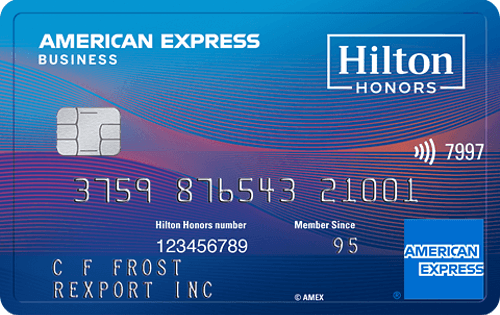 Best for: Business owners and employees who regularly stay at Hilton hotels and resort properties.
The Hilton Honors American Express Business Card is a great fit for business owners and employees who regularly travel for work and prefer to stay at Hilton-branded properties and resorts. With a large bonus offer combined with 12x points on Hilton stays and complimentary Gold Status with Hilton Honors, this card makes it possible for businesses to quickly rack up points and reduce their total traveling costs. But making the most of the Hilton Honors American Express Business card means making sure you're spending in the right place at the right time and putting in the effort to get the biggest benefit from your points redemption.
The basics
APR: 17.24%-26.24% variable
Annual fee: $95
Rewards rates: Earn 12x rewards points on all stays at Hilton portfolio hotels and resorts, along with 6x points for selected business and travel purchases. Cardholders also enjoy 3x points on every other purchase.
Intro offer: Get 125,000 Hilton Honors bonus points when you spend at least $3,000 in eligible purchases in your first three months of card membership.
Standout features
Complimentary Hilton Honors Gold status: Get a guaranteed member discount at Hilton properties along with digital check-in, automatic late check-out and elite tier rollover nights. But the biggest benefit of Gold Status comes from the 80% extra base points — for every $1 spent on Hilton property stays, you'll get 18 Hilton Honors points, plus additional card multipliers for initial spending.
Free weekend night rewards: When you spend $15,000 in eligible purchases on your card, you'll earn a free weekend night reward at participating Hilton properties. Plus, Gold Status means you won't pay resort fees on these weekend reward stays.
Second weekend night rewards: Get a second weekend night reward when you spend $60,000 on your Hilton Honors American Express card in a calendar year.
10 Priority Pass visits: Enjoy 10 free entries to more than 1,000 Priority Pass lounges around the world to work — or relax — before your next flight leaves.
Shine like a Diamond: Spend $40,000 in a calendar year and you're automatically upgraded to Diamond Status until the end of the next calendar year.
No foreign transaction fees: Use your card where and when you want without worrying about foreign transaction fees.
Baggage insurance: Travel confidently with up to $1,250 coverage for carry-on bags and $500 for checked bags when you purchase your entire fare using your Hilton Honors card through a common carrier.
Rental car coverage: Pay for your vehicle rental with your Hilton Honors American Express and waive the offered coverage to access protection for both vehicle damage and theft.
Global assistance: Call the American Express Global Assist Hotline anywhere, anytime for help with missing cards, money transfers, legal referrals or even medical emergencies.
Employee cards and account management: Easily add employee cards to increase points earning, or make a trusted staff member an Account Manager with the ability to access, track and manage your cards.
Monitor your spending: Use the American Express Business App to easily monitor and manage receipts, as well as set up account alerts for pending payments or irregular activity.
Add Amex Offers: The Amex Offers program notifies you of great deals on travel, shopping and dining — visit amexoffers.com, log in with your American Express account then find and add offers you like to start earning cash back rewards or extra bonus points.
Best way to use this card
The fastest route to big points earning with the Hilton Honors American Express Business card is through stays at Hilton properties, which always earn 12 points per dollar. You also get 80% extra points thanks to your complimentary Gold Status on all base spending.
Let's break it down: Standard earning rates are 10 points for every dollar, so if you spent $100 at a Hilton property, you'd earn 1,000 points. Both the 12x and 80% bonus rates are applied to this basic amount — they don't stack on each other — which means you get an extra 800 points from your Gold Status bonus and an extra 200 from your 12x card bonus for a total of 2,000 points for $100 in spending.
Conversion rates for Hilton Honors Points tend to hover around 0.5 cents per point. This is lower than average, with most rewards points converting at approximately one point per dollar. But given your potential to earn big bonus points and complimentary stays starting in the 5,000-point range, it's possible to significantly reduce your travel costs with the right approach to saving and spending points.
Businesses also enjoy six points per dollar on specific category spending that includes most purchases at U.S. gas stations, wireless phone service purchases from U.S. service providers, shipping for U.S. purchases, U.S. restaurant spending and flights booked directly through amextravel.com. As a result, it's possible for business owners to quickly save up Hilton Honors points with typical company spending — when combined with regular Hilton Hotel stays and the large intro offer, there's potential here for substantial cost reduction.
And when it comes to redemption, you've got choice: While points offer the best value for Hilton property stays, you can also convert them to airline or rail miles with partner programs or pool and transfer points among multiple business cards.
In a nutshell
The Hilton Honors American Express Business card makes it easy to accumulate points, especially when you stay at Hilton properties and add employee cards to boost bonus earnings. With the right approach to spending category management and by maximizing redemption with Hilton-property stays, this card offers big benefits for small businesses.
Not feeling the Hilton love? You may appreciate a more general travel rewards card like the American Express® Gold Card. While the $250 annual fee is higher, high-earning rewards categories are more versatile and include restaurants, supermarkets and flights, which may make it easier to earn points.