Hilton Honors American Express Aspire Card Review
April 16, 2020Doug Bonderud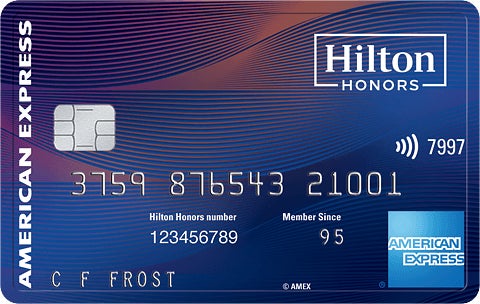 Best for: Travelers looking to maximize their Hilton Honors points earnings.
The Hilton Honors American Express Aspire card is designed for frequent travelers who regularly stay at Hilton hotels and purchase flights directly from airlines or via amextravel.com. With substantial bonus point multipliers tied to spending at Hilton Portfolio properties and complimentary upgrades to Diamond Hilton Honors status, this card offers big benefits with the right spending approach.
Here's what you need to know:
The basics
APR: 17.24%-26.26%
Annual fee: $450
Rewards rates: Earn 14x Hilton Honor bonus points when you make eligible purchases at participating Hilton hotels and resorts, along with 7x bonus points for flights booked directly with airlines or amextravel.com, car rentals booked through select rental companies and purchases at most U.S. restaurants. Cardholders also earn 3x points on all other eligible purchases.
Introductory offer: Get 150,000 Hilton Honors bonus points when you make $4,000 in purchases in the first three months after account opening.
Standout features
Complimentary Diamond status: Your Hilton Honors American Express Aspire card includes complimentary Diamond status, which gives you 100% extra bonus points on all base point earnings, room upgrades, premium in-room and lobby Wi-Fi, complimentary late checkouts and executive lounge access.
One free weekend night per year: Enjoy one weekend night reward after activating your card and every year after card renewal. You also earn an additional weekend night for every $60,000 you spend on your card each year.
$250 Hilton Resort credit: For each year of card membership, you get $250 in statement credits to help cover the cost of eligible purchases at Hilton properties.
$250 airline credit: Once per year, enjoy a $250 credit for an incidental fee from one eligible airline. Credits can be used to pay for checked baggage fees, in-flight refreshments or flight change fees.
On-property credits: When you book a minimum two-night stay through HiltonHonors.com/aspirecard, you'll receive $100 in credits for charges at Waldorf Astoria Hotels & Resorts and Conrad Hotels & Resorts.
Priority Pass Select: Cardholders get unlimited lounge visits for themselves and two guests after enrolling in Priority Pass Select, which offers access to more than 1,200 airport lounges worldwide.
Exclusive ticket access: Get access to exclusive ticket presales and card member-only events in nearby cities including Broadway shows, concert tours and sporting events.
Enhanced return policies: If you attempt to return an eligible purchase item within 90 days and the original merchant won't accept the return, you can receive up to $300 per item (up to $1,000 per year) from American Express.
Year-end summary: Easily access a year-end summary of charges to monitor your annual spending.
Add additional cards: Add additional cards onto your account at no extra charge, letting you easily earn extra points. Worth noting? Anyone over 13 is an eligible authorized user.
Premium Global Assist: If you encounter a problem during your trip, call the American Express Premium Global Assist hotline for 24/7 help. Get assistance with medical issues, legal concerns, cash wires or lost and stolen passports anywhere in the world.
Best way to use this card
Making the best use of the Hilton Honors American Express Aspire card means paying attention to your spending habits – mainly, how and where you're doing it. While all purchases earn 3x points every day, you can quickly increase your earnings by booking all travel through amextravel.com or directly through participating airlines.
But your biggest bonus comes from eligible spending at Hilton hotels and resorts, especially when paired with the 100% extra bonus points you earn with complimentary Diamond status. This Diamond status also provides access to great benefits such as no resort fees on reward stays, complimentary breakfast at all hotels and the ability to pool and transfer points with family and friends, letting you plan the ultimate vacation without breaking the bank.
The Hilton Honors rewards program also offers multiple ways to spend your rewards points and get the most from your card. Using the Hilton Honors website, you can redeem points for free nights in Standard and Premium rooms — paired with Diamond status, you can also get your fifth reward night free. Points can be redeemed for concerts or travel experiences in addition to on-property rewards such as vacation packages for all-inclusive Hilton resorts.
If you prefer more tangible rewards for your points earnings, link your Hilton Honors account to your Amazon.com account and start shopping. Hilton Honors points convert at a rate of 500 points to one dollar, meaning the 150,000 bonus points earned after spending $4,000 in your first three months of card ownership are worth $300 on Amazon. You can also choose to convert Hilton Honors points into points or miles with other travel partners. For example, 5,000 Amtrak Guest Rewards Points are worth 10,000 Hilton Honors points (or vice-versa), while 10,000 Hawaiian Airlines Miles get you 15,000 Hilton Honors points. It's also possible to covert 15,000 Hilton Honors points into 10,000 Flying Club miles with Virgin Atlantic Airways.
If you have points you don't plan to use, you can donate them to charity via PointWorthy.com — create a PointWorty account, link it to your Hilton Honors account and then make a donation. Points are converted at a rate of 4,000 to $10 USD.
In a nutshell
The Hilton Honors American Express Aspire card is a great fit if you're a frequent traveler who prefers to stay at Hilton hotel and resort properties. With a big bonus offer, substantial bonus earnings for on-property spending and a host of redemption and conversion options for your Hilton Honors points, this card lets you significantly reduce the cost of your next trip while earning extra points, weekend reward nights and yearly statement credits.