Discover it® Chrome Student Credit Card Review
July 30, 2019Dan Marzullo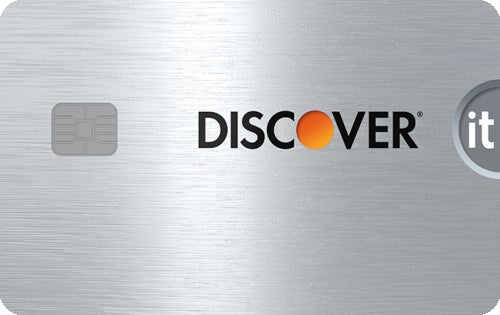 Best for: students looking to maximize quarterly bonuses
Finding the best credit card as a student can be daunting, but Discover offers a unique option for students who are just beginning their credit journey. With no annual fee and a rewards structure that pays rewards in categories where students frequently spend, the Discover it Chrome is a possibility worth considering.
The basics of the Discover it® Chrome Student Credit Card
APR: Standard variable purchase APR of 15.24% – 24.24%.
Annual Fee: $0
Reward Rates:  2% gas stations and restaurants, 1% on everything else. You can earn as many points as you want, and these points can be turned into cash or used to make purchases at Amazon.com.
Intro Offer: Discover will match all the cash back you've earned at the end of your first year, automatically. There's no cap for the amount you can earn for this promotion.
The Chrome Student card's standout features
Good grades reward: Earn a $20 statement credit every school year that you maintain a 3.0 GPA or higher. This bonus applies for up to five years.
Late payment forgiveness. College life is hectic and missing the due date on a payment is understandable. That is why this Discover credit card will let your first late payment slide. That means that there will be no fee and your APR will not rise due to this faux pas.
Earn unlimited points. Students using this card can earn 2% on gas station and restaurant purchases that applies to the first $1,000 in purchases every quarter. Card holders will also earn 1% on any other purchase made with this Discover it Chrome credit card.
No foreign transaction fees. Students eager to spend a semester abroad will be excited to learn that this card doesn't have a foreign transaction fee. Use this card at ease, knowing that what you're spending has no hidden fees.
Best way to use the Discover it® Chrome Student Credit Card
Money can be tight during your college years, and that's why earning double cash back on the first year can be such an added bonus. Simply spend on what you need, knowing that you will be rewarded at the first anniversary of opening your Discover it Chrome credit card. Students who are able to keep a 3.0 GPA or higher will also get an extra $20 credit bonus, perfect for a nice treat for your efforts in the classes.
Traveling abroad during your college years is nearly a rite of passage, and you can count on Discover it Chrome to have your back. You will pay zero in foreign transaction fees that other credit cards spring on you when you use your card outside of the U.S. This allows you to use your credit card anywhere Discover is accepted without any hidden fees.
In a nutshell
You want and deserve one of the best credit cards out there. Widely touted as one of the best credit cards for students, this Discover card rewards your studying efforts year after year.
Discover is on your side throughout your credit journey. That is why you can rest easy knowing that if you forget a payment, you will get a break. The first late payment will have no extra fee and your APR will be unaffected by this small mistake. Learning to use your credit card takes time, and Discover is here to help you raise your credit score as you earn your degree.