Discover it® Cash Back Credit Card Review
August 19, 2019Cynthia Paez Bowman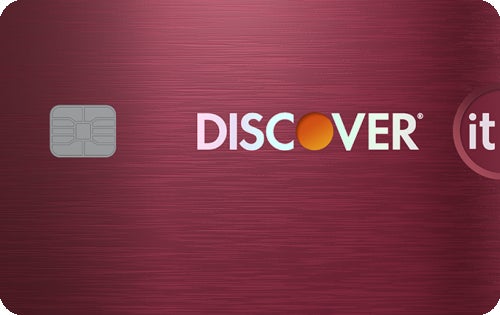 Best for: when you prefer cash over travel or shopping rewards
The Discover it card is all about cold hard cash. You won't be earning airline points or hotel-stay rewards – instead, you'll earn cash back in several ways. Up to a quarterly maximum, you can earn 5% cash rewards when you activate rotating categories such as groceries, gas, restaurants and purchases on Amazon.com. You'll also earn an unlimited 1% on all purchases. Discover will match whatever you earned in cash back at the end of your first year year, making your strategic spending pay off doubly.
The basics of the Discover it® Cash Back Credit Card
APR: 14.24% – 25.24% Variable APR.
Annual Fee: $0
Reward Rates:  Earn 5% cash back in different categories each quarter like gas, groceries, dining out and Amazon.com and more. You'll earn unlimited 1% cash back on all other purchases automatically.
Intro Offer: 0% interest on purchases and balance transfers for 14 months and a 3% balance transfer fee until November 10, 2019.
The Discover it® Cash Back's standout features
Your cash back amount will double at the end of the first year as Discover matches the total amount with their Cashback Match feature.
You can redeem your cash rewards through direct deposits, shopping on Amazon (when you link your account), statement credits, gift cards and e-certificates. 
Discover card cash rewards never expire.
See your FICO credit score for free on your monthly statements.
The best way to use the Discover it® Cash Back Credit Card
You'll need the organizational skills and planning of a coupon collector to maximize your cash back rewards using this Discover card, but it will be worth it at the end of the first year when you see how Discover doubles your hard-earned annual cash reward total by matching it.
In order to hit the 5% cash back paydirt, check out Discover's spending calendar of categories. You'll need to activate the category by signing up first. You'll accrue 5% cash back on qualifying purchases when you do. Make the most of your category bonus spending for the quarter to reach the maximum cash back for that category – for example, if Amazon spending is up, maybe that's a great time to get the jump on buying gifts for all seasons.
Once you've hit your quarterly max on the jumbo 5%, you can continue to earn an unlimited 1% on all your purchases with your Discover card. At least in that first year, Discover will be matching all your cash back, so it will equate to 2%. That's a reasonable rate, but in year two, you may consider pairing your Discover it Cash Back card with a higher flat rate card for general spending.
You can use your cash rewards whenever you want in any amount by applying it to Discover card statement amounts due, direct deposits, paying for Amazon.com purchases (when you link your account) and gift cards.
In a nutshell
For no annual fee and a beautiful 5% category bonus matched in the first year, this card is a perfect fit for a shopper dedicated to earning rewards. If signing up and tracking quarterly bonuses doesn't fit into your schedule, you'll earn more cash back with a flat rate rewards card like the Chase Freedom Unlimited.