Discover It® Balance Transfer Credit Card Review
August 15, 2019Lauren Ward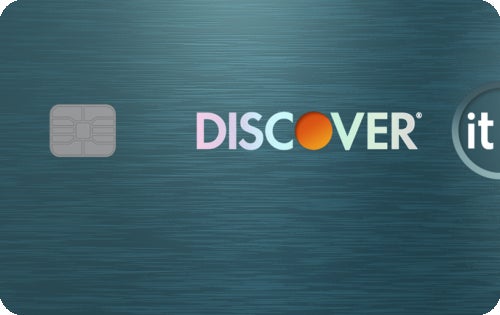 Best for: cardmembers who frequently shop in Discover's 5% cash back categories
The Discover it® Balance Transfer Credit Card caters to individuals who want a competitive balance transfer offer while still accruing cash back rewards points. Enjoy a 0% APR for 18 months on both balance transfers and 0% for six months on new purchases. After that, there is a standard variable APR of 13.49% to 24.49%. You'll also get an additional bonus matching all of the cash back rewards you accrued during your first year as a cardmember.
The basics of the Discover It® Balance Transfer Credit Card
APR:  0% intro APR on purchases and balance transfers for 14 months, then variable purchase APR of 14.24% – 25.24% and up to 5% fee for future balance transfers.
Annual Fee: $0
Reward Rates:  Activate a 5% cash back reward each quarter at locations such as gas stations, grocery stores, restaurants and online retailers, up to a $1,500 maximum in purchases. Also earn 1% on other purchases, including category purchases exceeding the quarterly maximum. 
Intro Offer: 3% intro balance transfer fee for all transfers made until November 10, 2019.
The Discover It® Balance Transfer's standout features
Cash back match: After 12 consecutive billing periods, receive an additional match on all of your earned cash back rewards from the previous year. Payments are spread between one or two billing periods.
Receive your updated FICO® Credit Score on Discover.com and your statements at no cost.
Get complimentary Discover identity alerts online, including daily monitoring of your Experian credit report and Dark Web activity. Available to the primary cardmember.
No annual fee or late fee for your first late payment.
Freeze It® on/off switch lets you automatically block new purchases, cash advances and balance transfers if you lose your Discover It card.
Best way to use the Discover It® Balance Transfer Credit Card
Maximize your Discover it credit card by taking advantage of the 0% balance transfer APR. Even including the 3% transfer fee, transferring high balances can still save you big money – making this an ideal payoff strategy for existing credit card debt.
Also check the quarterly cash back categories so you can activate your 5% cash back bonus on any relevant purchases. Popular cash back categories in the program include grocery stores, gas stations, restaurants, and even online retailers like Amazon, Target.com and Walmart.com.
Look at the year ahead to review how you can plan your spending throughout the upcoming quarters to optimize your cash back opportunities. You can earn 5% on up to $1,500 in quarterly purchases for each category. Paired with the cash back match at the end of your first year, you could earn up to $600 – and that's without counting the 1% earned on any additional purchases you make using your Discover it card.
In a nutshell
The Discover it Balance Transfer card provides an opportunity for interest-free payments on transferred debt as well as a cardmember-friendly cash back rewards program. Even without the balance transfer promotion, new purchases qualify for a six month introductory 0% APR and cash back program. That means you don't need balances from other cards to fully realize the benefits of this Discover it card.
The matching bonus, however, only applies to the first year of membership. You may miss out on that extra perk if you prioritize paying down high-interest debt from other credit cards without managing additional payments for new purchases.
All cardmembers do get to take advantage of Discover's suite of credit and identity protection services. Instantly take control of your card's security with the Freeze It switch while simultaneously staying on top of your credit health with inclusive credit monitoring.