Delta SkyMiles® Reserve Business American Express Card Review
March 20, 2020Doug Bonderud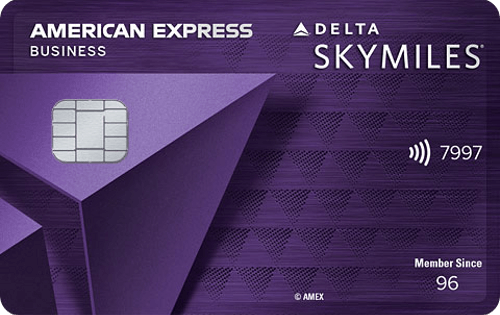 Best for: Businesses looking to reduce the cost of travel and earn extra travel rewards.
The Delta SkyMiles® Reserve Business American Express Card is designed to help you get the most out of your travel experiences. From complimentary access to Delta's top-tier Centurion Lounge to bonus miles, Medallion Qualification Miles (MQMs) and a host of travel perks that make it easier — and more cost-effective — to get where you're going, this card can help your next business trip feel far more luxurious.
Here's what you need to know about the Delta SkyMiles Reserve Business Card from American Express.
The basics
APR: 17.24%-26.24% variable.
Annual fee: $550
Rewards rates: Earn three miles for every dollar spent on eligible purchases directly from Delta along with one mile for all other purchases. Once you spend at least $150,000 on your card in a calendar year, enjoy 1.5 miles for every dollar spent, every day.
Introductory offer: When you spend $5,000 or more in the first three months, you'll receive 100,000 bonus miles and 20,000 MQMs. Also, g

et a bonus 20,000-mile boost at the end of your first year of card membership.
Standout features
Delta Sky Club access: Cardholders enjoy complimentary access to the Delta Sky club plus

two free Sky Club passes each year for colleagues or friends.

Afterward, a reduced rate of $39 per person for up to two guests applies.
Centurion Lounge access: The Centurion lounge features locally inspired menus, signature cocktails and quiet workspaces to make your travel plans a little less hectic — and far more comfortable.
Companion certificate: Each year, get one round-trip companion certificate for Delta flights.
Complimentary upgrades: Put your name on the list for complimentary Delta upgrades — the higher your Medallion Member tier, the higher your upgrade priority.
Main cabin boarding priority: Enjoy early main cabin 1 boarding so you can find your seat and stow your bag sooner.
First checked bag free: Check your first bag for free and save up to $60 per round-trip flight.
Trip delay insurance: If your round-trip is paid for using your Delta SkyMiles Reserve Business card, you can access complimentary trip delay insurance for covered delays more than 12 hours, up to $300 per trip.
Trip cancellation and interruption insurance: If a covered reason interrupts or cancels your trip and you've booked the entire fare on your SkyMiles Reserve Business card, you can claim up to $10,000 per trip to help cover the cost of non-refundable travel expenses.
Employee cards: Add employee cards to your account to earn more miles and keep track of staff spending.
Account manager status: Assign an employee account manager status on your card, allowing them to review statements, make payments and dispute charges as necessary.
The American Express Business App: Use the app to simplify receipt management and check on the status of your card anytime, anywhere.
Year-end spending summary: At the beginning of each year, American Express provides a year-end charges summary that includes an interactive overview of total spending and spending by category, such as travel or restaurants.
Best way to use this card
Making the most of the Delta SkyMiles Reserve Business card is all about managing your miles — both the SkyMiles earned for everyday spending and the MQMs you earn for flying with Delta.
SkyMiles are earned on all purchases — with 3x miles for Delta spending — and can be redeemed through the Delta SkyMiles website. Book travel to more than 1,000 destinations with no blackout dates, or redeem for in-flight upgrades. You can also use SkyMiles to book vacations, purchase Delta gift cards or use the SkyMiles Marketplace to purchase gift cards and technology from popular retailers including Amazon, Starbucks, Walmart and Apple. Here, the best value typically comes from booking directly with Delta — any "Award Travel" purchased with miles can be used by the cardholder or designated for someone else, and Delta regularly compiles a list of travel deals to help you get the most from your miles.
The other half of this ultimate business travel experience is the Delta Medallion program. This rewards program is divided into four tiers: Silver, Gold, Platinum and Diamond. Each offers specific travel bonuses including waived baggage fees, waived same-day change fees, rollover MQMs and the highest-priority boarding. Accessing each tier requires you to meet specific conditions — for example, you need 25,000 MQMs and $3,000 worth of Medallion Qualification Dollars (MQDs) to achieve Silver tier status.
MQMs are earned based on how far you're flying with Delta and your fare class, while MQDs come directly from Delta spending. The Delta SkyMiles Business Reserve card offers a 20,000 MQM bonus after you spend $5,000 in the first three months and also offers "Status Boost," which lets you earn 15,000 MQMs when you spend $30,000 in purchases during a calendar year. You can earn this Status Boost four times per year, giving you a potential total of 80,000 MQMs from bonus offers and Status Boosts in your first year. Combined with regular Delta spending, business card owners can easily achieve Silver, Platinum or even Gold status every year. Plus, rollover MQMs allow you to keep any miles above and beyond your necessary tier qualification for the next year, putting you on the path to Diamond Medallion status.
In a nutshell
The Delta SkyMiles Reserve Business Card offers great travel perks, solid reward earning rates and a big sign up bonus. Making the most of this card does require regular management — you'll need to keep track of SkyMiles, MQMs and MQDs — but with features like the Account Manager and yearly spending summary, you can make the most of your travel spending and enjoy the ultimate business travel experience.