Citi Simplicity® Card Review
July 3, 2019Sean Jackson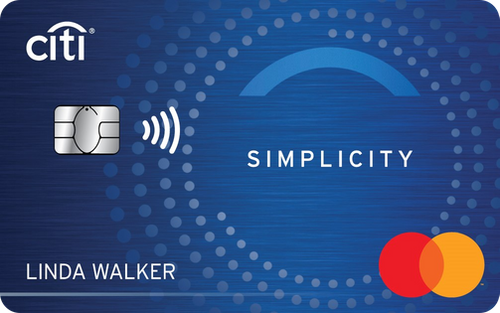 Best for: those wanting to transfer high credit card balances and pay them off quickly
Say goodbye to complicated credit card terms, late payments, annual fees, and the penalty interest rate. The Citi Simplicity credit card is perfect for those on the go who want a credit card that matches their busy lifestyle with fair terms that are easy to understand. And with a generous introductory rate, it's great for those wanting to finance a vacation or pay down debt.
The basics of the Citi Simplicity® Credit Card
APR: 0% APR on purchases for the first 12 months, 0% APR on balance transfers for 21 months,  then the variable APR of 16.99% – 26.99% applies. 
Annual Fee: $0
Rewards Rate: None
Balance Transfer Intro Offer: 0% APR on balance transfer for 21 months, with a balance transfer fee of $5 or 5% of the amount of the transfer, whichever is more applies. 
The Citi Simplicity's standout features
No fees: No late or annual fees. Also, Citi doesn't implement a penalty interest rate for those who make a late payment. 
Flexible payment dates: Card owners can choose their own payment date any time throughout the month. They can also change them anytime they need to through the account portal or customer service. 
Account protection: Borrowers receive $0 liability on any unauthorized purchases due to theft. Also, Citi offers the Fraud Early Warning to identify and notify customers of any unusual transactions.
Responsive service: Customer service is available 24 hours a day, seven days a week. Customers can bypass prompts by saying "representative" to receive assistance quickly. 
Credit score access: Customers can access their credit score anytime through their online account and chart their progress through a personalized credit history graph. 
Best way to use the Citi Simplicity®
This Citi credit card is one of the best on the market for balance transfers, offering borrowers a generous 21 months without interest. This is perfect for those wanting to consolidate debt or transfer balances off high-interest credit cards to pay down debt quicker.
It's important to note Citi charges a balance transfer fee of $5 or 5% of the amount of the balance transfer amount, whichever is greater. Depending on your personal circumstances, the lengthy 0% offer may more than make up for the high transfer fee.
It is also one of the most user-friendly credit cards available. With clear terms and no late or annual fees, this is a great credit card for those with busy lifestyles, who don't want to receive a penalty interest rate for missing one payment.
In a nutshell
The Citi Simplicity card is one of the smartest choices available for those who want to pay down debt faster. With a generous introductory rate, easy to understand terms, and flexible payment dates, it allows borrowers more control over repaying their debt, without the worry of incurring a bevy of fees or penalty rates.
What's more, the card offers many outstanding benefits such as 24/7 customer service, and $0 liability for fraudulent transactions. Borrowers can also access their complimentary FICO credit scores with a personalized history charted in a nifty graph.
While one of the most user-friendly credit cards available, it doesn't come with any rewards or cashback bonuses. For those looking for these features, consider the Citi Rewards+ Card instead.