Citi Rewards+℠ Credit Card Review
March 30, 2020Valerie Fulton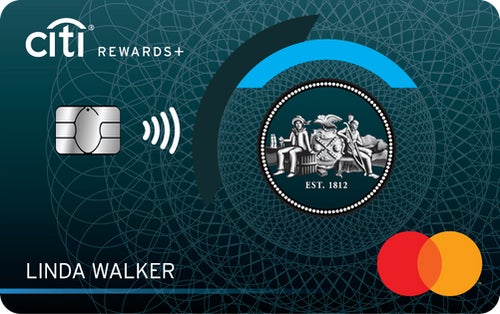 Best for: People who are willing to use this card for everyday spending to rack up rewards points.
Citi Rewards+ Card is the perfect credit card for those who like to use plastic for every single purchase, big and small. This card's unique reward system maximizes your daily spending habits by rounding up each purchase to the nearest 10 points. To give some perspective, that $12 movie ticket is worth 20 points, the $4 coffee you get every morning? 10 points, the same thing for a pack of gum or a soda from the vending machine. Finally, there's a credit card in sync with how you spend money every day.
The basics
APR: 0% intro APR on purchases and balance transfers for 15 months, then the standard variable APR rate of 14.49% – 24.49%.
Annual Fee: $0
Reward Rates: You'll get 2x points for every $1 you spend — up to a maximum of $6,000 — at supermarkets and gas stations; 1x points after you meet this cap. Citi Rewards + rounds up your purchases to the nearest 10 points, with no cap on the number of times you can receive this benefit.
Subscription Offer: You'll receive 15,000 bonus points when you spend $1,000 in purchases in the first three months.
Standout features
You'll get 10% extra points back on the first 100,000 points you redeem each year. For instance, if you use 10,000 ThankYou® points to get a $100 gift card, you receive 1,000 points back. 
There are lots of redemption options. You can use your ThankYou® Points to get gift cards, purchase travel rewards, shop online at stores such as Amazon or BestBuy, make charitable donations or pay certain bills. You can also redeem the points for cash, in $50 and $100 denominations or as a statement credit in amounts up to $250. 
For eligible members, points transfer at a one-to-one ratio into other miles programs.
Citi Entertainment gives you review and discount options on concerts and sporting events.
You'll get access to Citi Concierge, which can assist you with travel plans, dining, and entertainment options.
Contactless Pay lets you tap your card for a much faster checkout process.
Citi's 24/7 customer service line means you can get help whenever you need it.
Best way to use this card
The best way to maximize rewards with the Citi Rewards+ is to use the card consistently, especially for small purchases.You'll also want to use the card for all of your supermarket and gas station purchases in the first year. If you spend $42 on groceries, Citi Rewards+ Card will double that amount, then round it up to the next 10 points, making the purchase worth 90 ThankYou Points. This is a great way to earn points quickly.
Keep in mind that Citi Rewards+ also rewards cardholders for redeeming their points. For every 10,000 points you redeem — up to 100,000 points each year — you'll get 1,000 ThankYou Points deposited back in your account. You need to redeem the points to get the 10% back, though.
A final thing to consider is that redemption value varies. Gift cards and travel rewards redeemed through the ThankYou Center are worth one cent per point, while cash and statement credits are only worth 0.5 cents. It's obviously a much better value to use your points for air travel — and if you're flexible, you can take advantage of some great deals — or to purchase gift cards that can then be redeemed for their full cash value.
In a nutshell
Citi Rewards+ is a great card for people who make a lot of small purchases on everyday things. You'll be getting extra points every single time you use the card, and for some purchases, those extra points almost double the dollars spent. This provides added value even after the 2x bonus point offer on grocery store and gas station purchases expires. If you are a big fan of simplicity and don't want to tally up the value of every purchase you make there are other no annual fee reward cards that may work better for you. Capital One Quicksilver offers 1.5% cash back on every purchase, with no limits. Or if it's strictly points you're after, Discover it® Miles lets you earn 1.5X miles for every dollar you spend, and they'll match all the miles you earn automatically at the end of the first year.