Citi® Double Cash Card Review
August 19, 2019Lauren Ward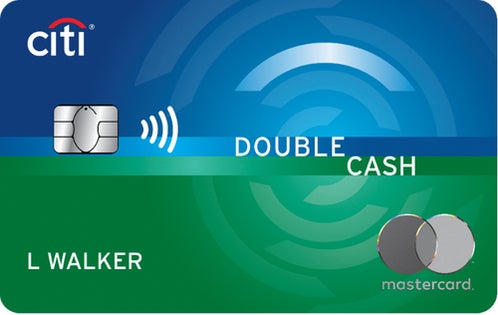 Best for: people seeking flexible cash back rewards with no category limitations
For people who don't want the limitations of specific spending categories in order to earn cash back rewards, the Citi Double Cash credit card offers more flexibility than many other options.  The 18-month 0% APR on balance transfers with a variable APR of 16.24% – 26.24% after that, also makes this card a winner if you want one of the longer available terms to pay down credit card debt with no interest.
The basics of the Citi® Double Cash Credit Card
APR:  Variable 16.24% – 26.24% on purchases
Annual Fee: $0
Reward Rates:  Earn 1% cash back with every purchase, plus an additional 1% when you pay your bill.
Intro Offer: 0% introductory APR on balance transfers for 18 months, then the variable APR adjusts to 16.24% to 26.24%. Balance transfers also incur a 3% fee.
The Double Cash Card's standout features
Unlimited rewards: 2% cash back comes with no category restrictions and no caps on how much you can earn. Redeem your reward with checks, statement credits or bank account credit.
Citi entertainment: Gain access to purchase event tickets during exclusive presales, including concerts, dining and sporting events. 
Citi Identity Theft Solutions: Complimentary service to assist you in recovery efforts after fraud victimization. Cardmembers may use this service for any account, even outside of their Citi cards.
The Lost Wallet Service: This provides 24-hour replacement of your lost credit card, plus the potential to receive emergency cash up to your cash advance limit.
Contactless pay and digital wallets: Tap your Citi Double Cash Credit Card on payment readers and use your Digital Wallet to shop online and in apps. 
Best way to use the Citi® Double Cash Credit Card
Complete your balance transfer within the first four months of opening your Citi Double Cash credit card in order to take advantage of the introductory rate. Purchases do not qualify for the promotional 0% APR and accrue interest at a regular rate, but they do accrue double cash back points, unlike balance transfers. In order to earn all the applicable rewards points, pay at least your minimum amount due each month.

Paying your balance in full activates the additional 1% cash back. If you charge $500 in one month, you initially earn $5 at the time of purchase, then an additional $5 when you pay the balance. Redeem your points with a minimum of $25 in cash back earnings. While this credit card does not offer a welcome bonus, you save money each year by avoiding the cost of an annual fee.

In a nutshell
The Citi Double Cash credit card offers two tiers of benefits. First, the competitive introductory period for balance transfers lasts longer than most other options available. Additionally, the cash back rewards program comes with few limitations. Purchases made anywhere with your Citi Double Cash card qualify and you avoid capping out after you hit a certain threshold of earnings.
Citi does apply a 3% fee on both balance transfers and international transactions and some cardmembers discover high APRs on regular purchases. As with any credit card, your specific terms depend largely on your credit score, making it important to review your options carefully.
Citi's robust security and fraud prevention services, however, prioritize the safety and wellbeing of all cardmembers. Whether you seek one of the longest introductory balance transfer rates you can get or simply want easy cash back rewards wherever you shop, the Citi Double Cash card helps you achieve both goals.