Chase Sapphire Reserve® Credit Card Review
August 19, 2019Julian Dossett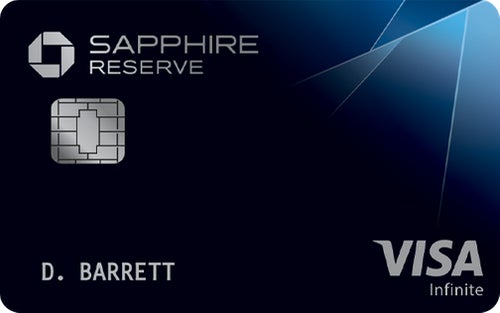 Best for: globetrotters who want the top perks available
Last year, MONEY® Magazine called Chase Sapphire Reserve® the "Best Premium Travel Credit Card." The name is well deserved, as the Chase credit card features one of the most advanced rewards structures available on the market. But the card definitely works best for people on the go, and avid travelers have a real opportunity to save significantly on trip expenses.
The high APR and annual fee will make most people pause before signing up. That's a good thing. Make sure the fees will be worth it by taking advantage of the stellar rewards on plane tickets and hotels.

The basics of the Chase Sapphire Reserve® Credit Card
APR: 19.24% – 26.24% right off the bat. No introductory APR is offered. 
Annual Fee: $550 starting immediately – and $75 for each additional care user. 
Foreign Transaction Fee: No fees anywhere outside of the United States.
Annual Travel Credit: $300 as travel reimbursement for charges on the card each account anniversary
The Sapphire Reserve's standout features
A 50,000 points starting bonus after spending $4,000 during the first three months (every point worth a penny).
Points are worth 50% more when redeemed for Chase Ultimate Rewards® – as long as the points go towards travel.
Receive 3X points for dining at restaurants after signing up. 
You get 3X points for travel expenses right after the $300 travel credit is awarded on the account anniversary.
Point transfer at least 1:1 when using loyalty programs at top airlines and hotels. 
Receive up to $100 for Global Entry or TSA Pre✓® application fee credit.
Best way to use the Chase Sapphire Reserve® Credit Card
When travel plans go sideways, Chase Sapphire Reserve® steps in. The card provides up to $10,000 per person and $20,000 per trip for pre-paid, non-refundable travel expenses. When you're standing in the airport of a foreign country with a canceled flight wondering what to do next, these perks are a lifesaver.

International shoppers can skirt additional expenses with the credit card's 0% foreign transaction fees. And anyone who's ever felt tired of airport hustle and bustle will appreciate access to the 1,000+ VIP lounges spread out over 500 cities across the globe, after a quick enrollment in Priority Pass™ Select.

Mitigating the stress from constant traveling takes a toll on us all. The points from Chase Ultimate Rewards® make it easier to transfer points to the service that's actually needed in any given situation, rather than forcing the points to be spent on a single platform.

At $550, the annual fee is definitely on the high end. Successfully applying for this card requires good credit, and the high APR makes leaving a balance on the card expensive. But for a smart traveler, the benefits that the card offers exceeds its limitations by far.

In a nutshell
Premium credit cards are not for everyone.
Deciding if Chase Sapphire Reserve® is right for you will take some foresight and financial planning. The points back on hotels, plane tickets and restaurants give cardholders access to truly powerful rewards that can change the game on budgeting for trips.
To make this card worth it, people should focus on what the card can do to make traveling easier and less expensive in the long run. Significant spending is required. Having a clear picture of annual travel expenses and whether they will exceed the fees will determine if the credit card is right for you.

Anyone turned off by the high APR and annual fee should look to the Chase Sapphire Preferred® credit card, which offers many of the same benefits and rewards with a lower APR and annual fee.