Chase Sapphire Preferred® Credit Card Review
August 19, 2019Dan Pankratz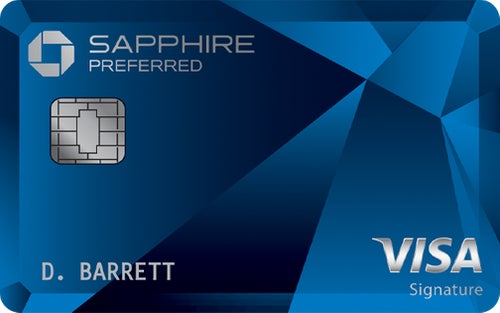 Best for: travelers who are not heavy spenders that want flexibility with no particular airline, as well as gain long-term rewards
Looking to travel soon? Planning a vacation? Are you also a frequent flier, looking for a card to give you flexibility and long-term reward bonuses? Do you want freedom from any particular airline with your purchases and expenses? Then the Chase Sapphire Preferred® Card is the right fit for you. With no foreign transaction fees and a steady reward system, this card is king for a frequent traveler.
The basics of the Chase Sapphire Preferred® Credit Card
APR: 17.99% – 24.99%
Annual Fee:  $95
Reward Rates: up to 5% cash back on a variety of travel expenses. This applies to restaurants, gas stations, hotels, Amazon.com and more while traveling. 
Intro Offer: 60,000 bonus points after you spend $4,000 on purchases in the first three months from account opening.
The Sapphire Preferred®'s standout features
No foreign transaction fees. 
Purchase protection for new purchases for up to 120 days, with protection of $500 per claim and $50,000 per account.  
If a trip is canceled or ended early due to weather, sickness, and other covered situations, this card will reimburse you for up to $10,000 per person and $20,000 per trip for prepaid, non-refundable travel expenses, including passenger fares, tours, and hotels.
Best way to use the Chase Sapphire Preferred® credit card
In summary, it's the perfect card to accrue benefits abroad while traveling where and how you want, whether for vacation or for work. You earn twice as many points per dollars spent while traveling worldwide, which applies to nearly every kind of travel expenses you might make. This includes gas stations, hotels and restaurants.
Additionally, these bonuses synchronize with the card's absence of foreign transaction fees; if you spend $5,000 internationally, you can save you up to $150 just by this single benefit alone. This is all added alongside the one point per dollar spent on all other purchases, further adding to the benefits you receive while traveling.
But why sign up for this card, when compared to other cards? Considering other options for travel, while the alternative of the Chase Sapphire Reserve Credit Card boasts a greater reward rate of three points per dollar spent rather than two, the Chase Sapphire's Preferred® Card has a lower annual fee, making this card much more affable to users who do not travel as frequently.

In a nutshell
So what makes the Preferred not just a good credit card, but an outstanding credit card for people who travel? The Chase Sapphire's Preferred card boasts steady cash returns and bonuses with less of an annual fee than other Chase reward cards.
You earn compounding rewards due to the savings of no foreign transaction fees, as well as gaining benefits on nearly all vacation and travel expenses you might make. While the card does not boast the specific perks or bonuses of travel credit cards tied to specific airlines, the Preferred®Card nonetheless is a trusted brand.