Chase Ink Business Cash Credit Card Review
December 11, 2019Stephen Altrogge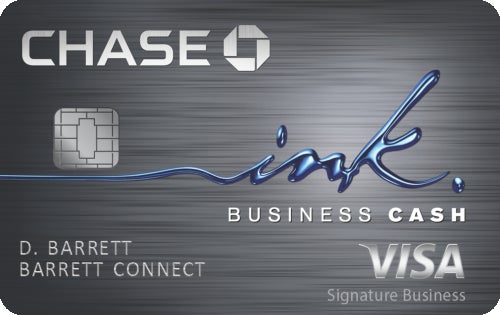 Best: For small business owners who want to earn cash back on every purchase, with the highest cash rewards on business-related expenses
For small business owners, everyday expenses add up quickly. The Chase Ink® Business Cash™ Card is a practical way to help you funnel cash rewards and a substantial cash bonus right back into your business. Common business expenses earn you the highest rewards, but every purchase earns a minimum of 1% back. And, there's never an annual fee with this card.
The basics
APR: 0% fixed Intro APR for the first 12 months account is open, then a variable rate of 14.74% to 20.74%.
Annual Fee: $0
Reward Rates: Receive 5% cash back on the first $25,000 spent on purchases at office supply stores and internet, cable and phone services each year. You'll also get 2% cash back on the first $25,000 spent on purchases at gas stations and restaurants each year, and 1% cash back on all other purchases, with no spending limits.
Intro Offer: $500 bonus cash back is awarded after you spend $3,000 on purchases within the first three months your account is open.
Standout features
Get additional employee cards at no cost. You can designate authorized users and set individual spending limits on those cards. Employee card purchases count the same as yours to achieve business cash rewards even faster.
Redeem points for other types of rewards: If preferred, you can choose from gift cards, travel points and more, instead of getting cash back.
Monitor important aspects of your business with fraud protection, purchase protection and personalized account alerts for peace of mind. 
Travel perks included with the card. You have access to auto rental collision damage waiver, travel and emergency assistance services, and roadside dispatch for emergencies when you use the Chase Ink Business Cash Card to book your travel. If you travel for your business, these perks are especially useful.
Get purchase protection and extended warranty protection on your purchases. These cover new purchases for 120 days against damage or theft and extend the time of the U.S. manufacturer's warranty by an additional year on eligible warranties of three years or less when you purchase with the card.
Best way to use this card
As a business owner, you can take full advantage of several components of the Chase Ink Business Cash Card offers. Begin by making sure that you reach $3,000 in purchases the first three months after receiving the card to earn the substantial $500 cash bonus. If you use this card consistently, it won't be difficult to hit the $3,000 mark. Using it primarily for office supplies and other business expenses will help you earn the highest reward of 5% cash back, which can extend your bottom line.
Request additional authorized user cards at no cost for your employees to use whenever they need to charge expenses related to your business. Their purchases count for cash back the same as yours do, but you can conveniently place limits on the amount they charge. By giving your employees their cards, your rewards will add up more quickly.
Beyond business expenses, always reach for this card when you eat out or need to fill up your vehicle's gas tank. The reward for those expenditures is an ample 2% cash back, which adds up quickly, too. But no matter what you buy, even if it's not a business expense, gas, or dining out, you'll get at least 1% back. It's a no-brainer to use this card for every purchase and be paid back for some of the costs.
As with every card, you should pay off your balance every month to avoid interest charges. The variable APR of 14.74% to 20.74% can cut into your rewards, though it is better than some other cards on the market.
In a nutshell
The Chase Ink Business Cash Card is a benefit to business owners looking for ways to systematically reinvest cash rewards back into their business, and lower their overall operating expenses. If you know your upcoming expenses will reach at least $3,000 in the first three months, the bonus $500 payback is generous. And since there is no annual fee, it's a simple, no-cost way to increase the bottom line.
If your business expenses aren't substantial or you don't reach the minimum for the three-month cash bonus, you could check out a business card with a flat-rate cash back reward instead, such as the American Express® Blue Business Cash™ Card. It offers 2% cash back on all eligible purchases up to $50,000 per calendar year and 1% cash back after spending $50,000 per year. No annual fee is charged on that card either.
Maybe your business is new, and you're not showing a profit yet, or you have large expenses approaching and anticipate the need to carry a balance forward for a while. Rather than focusing on cash rewards, the credit card's APR would be a bigger concern. In that case, the Blue Business Plus Credit Card from American Express has a 0% introductory purchase APR, and a 0% intro transfer fee if you have balances on other cards charging a high APR each month. You'll still earn a rewards rate of one to two points per $1 spent, and like the other cards above, there's no annual fee.