Chase Freedom® Unlimited Credit Card Review
August 15, 2019Dan Marzullo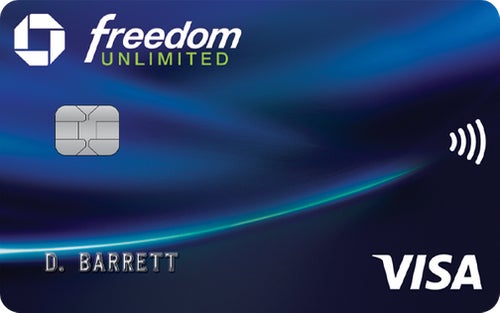 Best for: people looking for flexibility when spending their earned points
Those looking to take advantage of Chase's credit card perks but don't want to pay an annual fee are in luck. Chase Freedom® Unlimited gives you quick, easy methods to earn a massive amount of cash back for a flat-rate credit card, especially in the first year. This card also has the added bonus of having zero interest for the first 15 months, which extends to balance transfers, too.
The Basics of the Chase Freedom® Unlimited Credit Card
APR: 0% intro APR on purchases and balance transfers for 15 months from opening the account, then variable APR of 17.24% – 25.99%.
Annual Fee: $0
Reward Rates:  Earn 1.5% on all purchases, without a cap on the amount of points you can earn each year. Chase is always adding ways in which to spend these points, which never expire as long as your account is open.
Intro Offer: Earn 3% cash back on all purchases up to $20,000 spent on the first year, then 1.5% on all purchases.
The Freedom Unlimited's standout features
0% APR for 15 months. Spend responsibly without having to worry about interest for the first 15 months. This is really helpful if you have a large purchase that you want to pay over time.
Flat-rate cash back. Earned points are available after each billing cycle. They never expire and can be used to buy gift cards to a number of places or can be turned into cash credits towards your current balance. They can also be used directly on Amazon purchases.
Purchase protection. Buy anything knowing that it will be covered for 120 days against theft and damage. A $500 maximum limit does apply to this benefit.
Extended warranty protection. Let Chase cover your new purchases for an extended period of time. This protection is automatic and doesn't require any additional fees. Some restrictions apply, but this benefit extends the U.S. manufacturer's warranty on most items by one year.
Best way to use the Chase Freedom Unlimited®
Getting out of debt is possible when your entire credit card payment is going towards reducing your principal for 15 months. Taking advantage of this benefit can also increase your credit rating, since it's recommended to keep your credit card use under 30% of the total credit limit. For those currently debt-free, you can use the 15-month period without interest to finally buy that big-ticket item and pay it off in small monthly payments.
This card is also great for people who want options when it comes to spending their earned points. Chase has a plethora of gift cards, but you can also turn the points into cash that gets credited to your current credit card balance or gets deposited into your bank account. Other options include travel options and Amazon purchases.
Another way to win big with the Freedom Unlimited is to pair it with other Chase cards. Your points have more value when you also hold the Chase Sapphire Preferred or the Chase Sapphire Reserve. Get to know Chase's Ultimate Rewards portal, and consider if owning more than one Chase card suits your lifestyle.
In a nutshell
This card's competitive rates and numerous benefits make it an attractive offer for those looking to earn points without worrying about quarterly categories.
The ability to earn 3% on all purchases over the first year (up to $20,000 in purchases) is a perk that can add up to $600 cash back in points in the first year of owning this card. These points can be used in a variety of ways, giving you the freedom to treat yourself to countless possibilities.