Capital One Spark Cash for Business Credit Card Review
February 14, 2020Kristie Kwok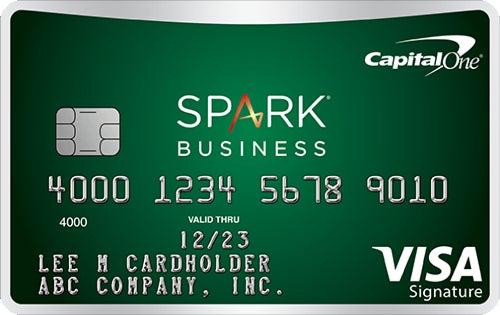 Best for: Small business owners looking for simple cash back rewards on a variety of business spending.
The Capital One Spark Cash for Business Credit Card is just the thing for business professionals who love the idea of earning cash back for their business but don't want to monitor rewards categories. It's also great for companies that do not spend a lot on typical business rewards categories like travel, dining and office supplies. The 2% cash back rate is not top of the market by any means, but you're rewarded for all purchases with no caps or limits.
With straightforward rewards earning structure and free employee credit cards, getting enough cash back to cover your $95 annual fee shouldn't be too difficult. In any case, the annual fee is waived in the first year, meaning you can try it out for free.
The card is complemented by the latest technology as well, so you can retain full control of your account and take advantage of reporting tools that'll make accounting and business planning a breeze.
The basics
APR: 18.49% variable on purchases
Annual fee: $0 for the first year, then $95 thereafter.
Rewards rates: Unlimited 2% cash back on purchases, with no cap on the number of rewards you can earn.
Intro offer: One-time cash bonus of $500 when you spend $4,500 within the first three months.
Standout features
Redeem to suit you: Get cash back any time, for any amount, and your rewards won't expire if your account stays open.
Free employee credit cards: Build cash back quickly by earning rewards from employee purchases, but retain full control by setting spending limits.
Good for travel: Access to travel and emergency assistance and lost luggage locator service; no foreign transaction fees.
Stay organized with custom itemized spending reports for budgeting and taxes. You can also assign an employee as an account manager, which allows the employee to make payments, review transactions and ensure your account is up-to-date.
Accounting and business management made easy: Purchase records can be downloaded for use with Quicken, Quickbooks and Excel.
Best way to use this card
At a cash back rate of 2%, you'll need to spend $4,750 per year to cover the cost of the card's annual fee, which shouldn't be too difficult to achieve. If you think of your Spark Cash for Business card as a cash flow management tool that allows you to hold onto your cash longer, then getting maximizing it is really about using it as much as possible — such as when you pay your bills, book travel, stock up on office supplies or purchase inventory. Just remember to repay your balance in full each month so you won't be charged any interest.
To earn your $500 welcome bonus, make sure you meet the prerequisite spending of $4,500 in the first three months. Depending on the spending patterns of your business, it may be worth timing your application to coincide with a big office purchase or an upcoming business trip.
Earn more from employee spending
Of course, getting additional employee credit cards will allow you to earn from their spending too. And what's great about the Spark Cash for Business card is that you can set spending limits and view transactions are soon as they've been posted, so you'll still feel in control of your account. For added convenience, you can manage your account online or via a dedicated mobile app.
Request rewards or set up automatic redemption
You can request cash back in the form of a statement credit or check. But you can also set up automatic redemption so that you'll receive rewards at a set time during the calendar year or when rewards reach a specific threshold, like $25, $50, $100 and so on.
Don't forget Visa benefits
You've got excellent Visa business benefits to take advantage of too, like emergency card replacement and auto rental damage waiver. Purchase protection and extended warranty will come in handy when you buy big items for the office.
Pay on-time
Apart from the annual fee of $95, which is waived in the first year, there is also a late fee of $39 for late payments. Late payments also could trigger a penalty APR of 30.9% on your account, so it's best to avoid them.
Since Capital One reports to the credit bureaus, paying on-time will help to build up your business credit too.
In a nutshell
It's hard to ignore the Spark Cash for Business card if effortless rewards are what you're after. It's got a straightforward cash back program to complement a decent rewards rate.
For many business customers, being able to keep track of their accounts is so critical when there are employee credit cards involved. And this is where Capital One differentiates itself from other competitors — it provides excellent support and safety measures to ensure the account holder remains in full control. What's more, there are great reporting tools to simplify accounting and business management as well.
But if you're serious about maximizing rewards, then you could pair the Spark Cash for Business with a card that has rewards categories. The Ink Business Cash Credit Card is a popular choice because it has no annual fee. You can then use your Ink card to get 5% cash back on the first $25,000 spent on office supplies and internet, cable and telephone services, and your Spark Cash card to pay for everything else.