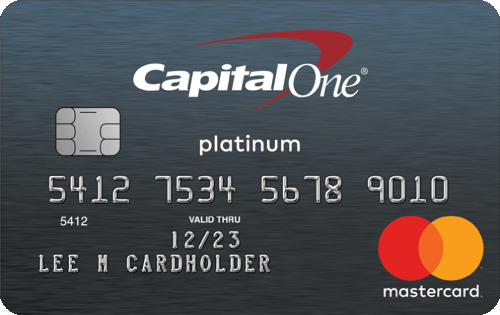 Best for: those starting off on their credit journey who don't have existing over-the-limit credit cards and pay their bills on time
A big chunk of the population is just finishing college and entering the career world without enough credit to qualify for their first credit card. The Capital One Secured Mastercard solves this issue by offering a no-cost credit card that you back with a security deposit as low as $49. Here's to building your credit.
The basics of the Capital One® Secured Mastercard®
APR: Standard variable purchase APR of 26.99%
Annual Fee: $0
Rewards:  None
Intro Offer: You'll get a $200 credit line to start with after making a security deposit of $49, $99 or $200 (depending on creditworthiness). You'll qualify for a credit increase with no additional deposit needed after you pay your first five monthly payments on time.
The Capital One® Secured Mastercard®'s standout features
No annual fee makes building credit affordable.
As little as a $49 security deposit may be required to get a $200 credit limit.
Pay your bill on time for the first five months and you'll qualify for a credit limit increase without having to put down another security deposit.
Your activity is reported monthly to the credit bureaus for building credit.
Autopay is available to ensure your monthly payments are on time. 
No foreign transaction fees means you can use your card abroad without any currency conversion penalties.
Although it's a secured credit card, the Capital One Secured Mastercard does not have the word "secured" on it if you're self-conscious about building credit.
Best way to use the Capital One® Secured Mastercard®
The Capital One Secured Mastercard is designed to help you build your credit history by showing the credit bureaus you're able to make monthly payments on time. Spend with the card regularly and wisely each month and pay your balances on time to be eligible for unsecured credit limit increases after five months.
The APR and late payment fees are high— 26.99% APR and a $39 late payment fee—so it's best to make monthly purchases you can pay off in full on or before your bill is due.
If you tend to space out and forget to pay your bills on or before the due date, you can select the due date of your choice. Set up autopay for a minimum payment due on a set date each month to at least cover the minimum required amount on time without any late fees or dings to your credit history.
This is a great card to use when traveling abroad. Use it to pay for items overseas and you'll avoid the 3% foreign transaction fee most credit cards charge when you pay for hotels, souvenirs and other purchases in a foreign country.
In a nutshell
The Capital One Secured Mastercard is the top card available for when you're starting on your credit-building journey. There's a good chance you won't need to secure your entire credit limit with a security deposit, making it better than a prepaid card. You'll be able to build a relationship fairly quickly with Capital One and can request an unsecured credit increase in as little as five months of on-time payments.
No annual fee makes this Capital One credit card a no-brainer. It's a good entry-level card into future Capital One credit card products loaded with perks and rewards, as long as you remember to pay your bills on time and make sensible spending choices. With a small credit limit to start with ($200), the Capital One Secured Mastercard makes learning about managing credit responsibly a low-risk but high-reward activity.