Capital One SavorOne Credit Card Review
December 19, 2019Kacie Goff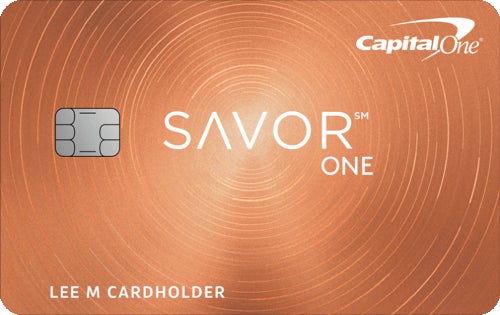 Good: For people who love dinner and a movie
Better: For people who want flexible rewards without an annual fee
Best: For people who spend more time at restaurants than they do in their own kitchen
If you're going to bust your budget on a night out, you might as well earn rewards on it. And with the Capital One SavorOne® credit card, you earn 3% cash back on every dollar you spend at restaurants, bars, cafes, movie theaters, sports, theater events and more. 
Here's the full itinerary for the SavorOne:
The basics
APR: 16.24% – 26.24% variable APR (after 15-month introductory period, during which APR is 0%)
Annual Fee: $0
Reward Rates:  3% cash back on dining and entertainment, 2% on grocery store purchases, 1% on all other purchases (cash back rewards are unlimited) 
Intro Offer: 0% APR for 15 months; spend $500 with your card in the first three months and get $150
The standout features
Rewards where you spend: Admit it, millennials, we love to eat out. Nope, it's not the most budget-friendly choice, but it's a convenient way to meet a need without having to cook or clean. If you spend more time at your favorite take-out spot than you do in the kitchen, the SavorOne card rewards you for it. 
Event access: This card doesn't just reward you for your entertainment choices, it also gives you more of them. With your SavorOne, you get perks at a bunch of events, including access to presale tickets, discounts on food and beverage purchases, VIP access and more.
Easy rewards redemption: Because you earn cash back on your purchases, calculating your rewards is pretty simple. And cashing them out is easy, too. Capital One lets you use your rewards for cash back that you can receive via check or applied to your account balance. You can also redeem your rewards as a gift card.  
Protection and perks on the road: The SavorOne credit card doesn't have any foreign transaction fees. And you get access to Capital One's 24-hour travel assistance and concierge services, plus travel accident insurance when you purchase your fare with your card. 
Best way to use this card
First thing's first – you should know that this card requires excellent credit.
If you have a credit score of around 740 or above, you can probably get the SavorOne card. Spending $500 with your card in your first three months earns you a $150 reward.
Then, maximize your rewards by using your SavorOne credit card any time you're spending in any of your extra bonus categories. Not sure exactly what qualifies? Here's a quick guide:
Dining
Restaurants
Bars
Fast food chains
Cafes
Lounges
Bakeries
Entertainment
Movie theaters
Amusement parks
Professional or semi-pro sports and theatrical promoters
Aquariums and zoos
Tourist attractions
Dance halls
Pool halls
Record stores 
Bowling alleys
Note: you have to go out to earn these entertainment rewards. Capital One doesn't include digital entertainment like streaming services or cable in this category. Golf courses and college sporting events are also not included.
It's also worth noting that to earn the 2% cash back grocery rewards, the store needs to be grocery-specific (like a supermarket or specialty market). Big-box retailers like Walmart® and Target® don't count.  
If you want to earn even more rewards and you spend quite a bit in the dining and entertainment categories, consider Capital One's Savor® credit card. After the first year, you'll pay an annual fee of $95 but that gets you 4% cash back on dining and entertainment. Plus, the introductory offer is double ($300). Just keep in mind that the spending threshold to earn it is significantly higher; you have to spend $3,000 in the first three months to get it.   
In a nutshell
With no annual fee, a pretty easily achievable intro spend bonus and cash back on stuff you buy a lot of anyway, the Capital One SavorOne credit card has a lot to offer. The only problem? You'll need excellent credit to get it.
Provided you can get over that hurdle, the SavorOne card helps you see some return on the money you spend at restaurants and movie theaters.
What's more, redeeming any rewards you accumulate is a complete cinch. With Capital One's user-friendly redemption process, you can cash out your rewards for a reduction of your account balance, a gift card to your favorite store or a check. It doesn't get much easier than that.