Capital One® Savor® Cash Rewards Credit Card Review
June 18, 2019Michael Evans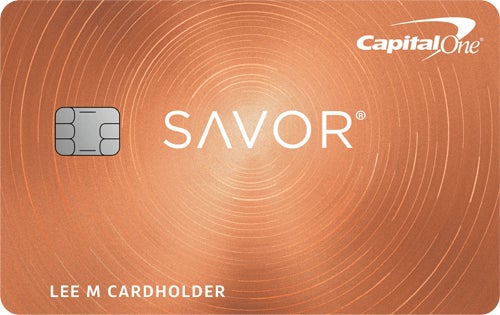 Best for: people who dine out often and spend big on entertainment
Cash rewards credit cards are all the rage these days. The Capital One Savor Cash Rewards Credit Card sets itself apart from the pack by rewarding those who love to wine and dine. With a generous introductory offer and low annual fee, the Savor card is a winner for families and fun-loving singles. Is it right for you?
The basics of the Capital One® Savor® Cash Rewards credit card
APR: 16.74% – 25.74% variable
Annual Fee: $0 for the first year and $95 subsequent years.
Reward Rates: Unlimited 4% cash back when you use the card to pay for dining out and entertainment, plus 2% cash back for grocery purchases (except when shopping at superstores like Target and Walmart). And you can enjoy 1% cash back when you use the card for all other qualified purchases. 
Intro Offer: $300 cash bonus if you use the card to make $3,000 worth of purchases with the first three months of the enrollment date. 
Capital One Savor's standout features
No foreign transaction fees.
Rewards do not expire. You can redeem rewards by receiving a check or statement credit when your rewards balance reaches a defined threshold or on a set date.
When you use the Savor card to make purchases, Capital One offers extended warranty protection on eligible items.
Tourists enjoy the Savor card's 24/7 concierge service to help them with travel, dining and entertainment planning, as well as travel insurance, which covers fares purchased with the card.
Capital One's Wikibuy website searches thousands of online merchants to help find the best deals, and its Paribus app offers cash back for overpriced online purchases. 
Savor cardholders get exclusive access to events and products.
Email and text security alerts if the Capital One system detects suspicious activity on your account and enjoy $0 liability for unauthorized charges.
Capital One's CreditWise program monitors the dark web to look for signs that someone has obtained your Social Security number and sends alerts on credit report changes that might affect your credit score.
Best way to use the Capital One® Savor® Cash Rewards credit card
Cash back rewards add up quickly when you use your Capital One Savor card for all your dining and entertaining expenses. Start using your new card right away to accumulate $3,000 in qualified spending during your first three months to earn your $300 bonus.
Use the card for qualified concert tickets, movie admission and restaurant tabs. If you and your spouse spend $300 to see a trendy new band, you could earn $12 in cash back rewards. And when you use the Savor card to pay for expensive admissions fees at travel destinations, you can earn 4% cash back on qualified purchases.
Use the Savor card every time you head to the grocery store. According to the U.S. Department of Agriculture, the typical American household spends more than 5% of their income on groceries. If you and your family spend $5,000 per year on groceries, you could earn up to $100 in cash back rewards using your Savor card at the store.
Use the Savor card for purchases such as toiletries, gifts and clothing to earn even more rewards dollars. When you spend $500 on gifts for your child during the holidays, you can earn $5 in cash back rewards on qualified purchases by using the Savor card.
In a nutshell
Most of Savor's features are a cut above many credit cards. With Savor's exclusive access benefits, you can expand your cultural horizons, enjoying more concerts, sporting events and culinary programs. Better yet, you can earn 4% cash back on purchases you make while attending.
Capital One has designed Savor's benefits to appeal to all types of consumers. Millennials can rake in the cash back rewards when they paint the town red and families can reduce their grocery expenses with 2% cash back on qualified purchases.
Capital One's technology features go beyond the standard account access and purchase alerts offered by other credit card companies. CreditWise helps you stay on top of credit reporting, Eno makes online shopping safer with virtual card numbers and the Capital One app makes check deposits quick and easy.
With a generous introductory $300 cash back offer and no annual fee for the first year, the Capital One Savor Cash Rewards Credit Card is a winner right off the bat.