Capital One® QuicksilverOne® Rewards Credit Card Review
December 15, 2019Michael Evans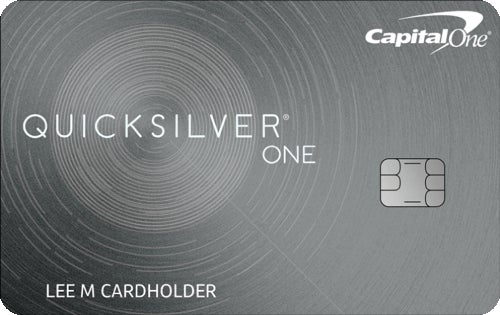 Good: For people with average credit scores
Better: For people who make most of their purchases with a credit card
Best: For frequent travelers
The basics
Annual Percentage Rate: 26.99% for purchases and cash advances. This rate varies, based on the Prime Rate.
Annual Fee: $39
Rewards Rates: Earn unlimited 1.5% cash back on every dollar you spend. Rewards don't expire, and you can redeem for a check, statement credit or gift card. Set automatic redemption preferences to receive cash back on a specific annual date or when your balance reaches a certain dollar amount. 
Introductory Offer: None
Standout features
Use this card to make purchases overseas and pay no foreign transaction fees.
Purchase airline tickets and receive no-cost travel accident insurance. If you lose your card while traveling, Capital One's 24-hour travel assistance service can issue you a cash advance and expedite a replacement card.
Use the card for rental cars and receive no-cost collision and comprehensive coverage.
Receive extended warranty protection when you make eligible purchases with your card.
Your QuicksilverOne account allows you to set up autopay for recurring transactions.
Capital One's CreditWise system monitors the dark web and alerts you to suspicious activity with your Social Security number. CreditWise also gives you access to information from your TransUnion credit report.
Capital One's Eno system monitors your account and alerts you when unusual charges appear. This feature also enables you to create and use virtual card numbers for safer online shopping.
Use the Capital One mobile app – available for Android and Apple devices – to pay bills, receive instant purchase notifications, make mobile check deposits, redeem rewards points, access CreditWise and receive and send money through Zelle.
Best way to use this card
Use the Capital One® QuicksilverOne® card to make all your travel-related purchases. Not only will you rack up rewards for purchases such as airline tickets and hotel accommodations, you'll also receive no-cost travel accident coverage. And if you rent a car using the card, you only need to pay for liability coverage.
Make incidental purchases using the card to help build your rewards balance. Most people can easily spend $20 per day on purchases such as restaurant bills, coffee and soft drinks. If you spend $400 per month on incidental purchases, you could earn more than 7,000 rewards points per year without even trying.
Pay monthly bills and streaming subscriptions. If your monthly expenses run $600, you could earn nearly 11,000 rewards each year.
In a nutshell
The Capital One® QuicksilverOne® credit card is a solid card for people with average credit scores and folks who use credit cards to make most of their purchases – even if it's not quite as competitive when it comes to benefits.
QuicksilverOne rewards you with consistent 1.5% cash back points on all purchases but does not offer higher rewards in specific categories. For instance, Capital One's Savor® Cash Rewards Credit Card awards 4% cash back on dining and entertainment purchases and 2% for grocery store purchases. And, Quicksilver charges an annual fee right off the bat, while the Savor card charges new cardholders no annual fee for the first year of membership.
QuicksilverOne also is devoid of introductory offers. Nonetheless, if you simply need a widely accepted credit card that earns you cash back, this card can deliver.