Capital One® Quicksilver® Credit Card Review
August 1, 2019Cynthia Paez Bowman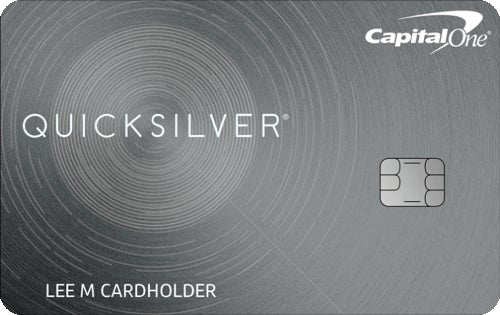 Best for: paying down large balances without interest, thanks to the introductory offer of 0% interest on balance transfers for 15 months
The Capital One Quicksilver Credit Card keeps it simple when you want a no-fuss rewards card that offers high-end services like a 24-hour concierge, travel emergency insurance and extended warranty protection for no extra fee.
You get 1.5% cash back on every purchase without having to sign up to activate the savings. The additional product and travel protections offered at no annual fee are unbeatable. Rival cards offering similar services charge at least $95 per year.
The basics of the Capital One® Quicksilver® Credit Card
APR: 16.24% – 26.24% Variable APR
Annual Fee: $0
Reward Rates: Earn unlimited 1.5% cash back on every purchase.
Intro Offer: 0% interest on purchases and balance transfers for 15 months and a $150 one-time cash bonus once you spend $500 on purchases within the first three months.
The Quicksilver's standout features
Unlike many other cash back credit cards, the Capital One Quicksilver Credit Card sets no minimum cash reward redemption amount so you can cash out any amount at any time.
No foreign transaction fees saves you an average of 3% on purchases made when traveling abroad.
Free additional warranty protection is included for eligible items purchased with the Quicksilver card.
If your card is lost or stolen during a trip, you can get a cash advance and a replacement card quickly.
Travel insurance is included to cover airfare losses and lost bags when you pay for your plane tickets with your card.
Complimentary concierge service is available 24 hours a day to help you book dining, travel and entertaining.
Best way to use the Capital One® Quicksilver® Credit Card
Who doesn't love free money? A 1.5% cash back amount adds up if you charge most of your expenses to your credit card. According to Capital One's credit card slider, spending $1500 per month can add up to $270 cash back per year.
A good combination of price protection and extended warranty insurance makes this the ideal card for buying electronics and more expensive equipment. You'll be protected longer than the standard manufacturer warranty. And if Paribus, which comes included with your card, discovers the item you purchased goes on sale soon after you purchase it with your card, they will refund you the price difference.
The introductory offer of 0% interest for 15 months can save you in interest fees if you're paying off a large balance on another card. There's a 3% balance transfer fee, but that's far cheaper than the average 16-20% APR you could be paying in interest.
In a nutshell
If you're looking for a card that earns a predictable rate of cash back every month and offers travel-related perks like travel emergency insurance and no foreign transaction fees, the Capital One Quicksilver card is right for you.
This Capital One credit card has no annual fee but offers services like concierge assistance for booking entertainment, dining and travel. Credit card companies that provide this level of customer service charge at least $95 per year, making this card an unbeatable combination of economy and value.