The Business Platinum® Card from American Express Review
March 20, 2020Trevor Wallis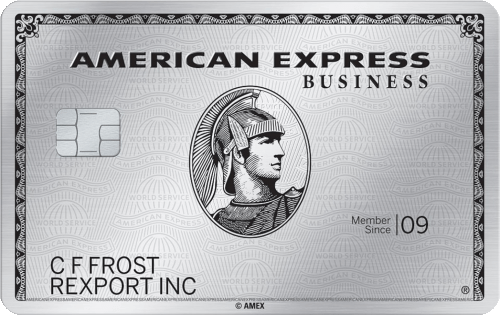 Best for: Small business owners who travel often and in style.
The Business Platinum® Card from American Express is the gold standard of premium travel rewards cards for small businesses. Penny pinchers and casual travelers might balk at the $595 annual fee, but adventurous business people will be showered in perks that make their travels much more enjoyable. If your business ventures take you away from home often, you'll find the Business Platinum Card might quickly become a preferred travel companion.
The basics
APR: This is a charge card, meaning your balance is due in full at the end of your billing cycle each month. Some purchases may qualify for the Pay Over Time feature, which currently carries an APR of 19.74%.

Annual Fee: $595

Rewards Rates: Earn 5x Membership Rewards points when you prepay hotel nights or book flights through the American Express travel portal. You'll earn 1.5x points per dollar on all purchases over $5,000 and 1x points per dollar on all other purchases.

Intro Offer: You can earn a total of 75,000 bonus points. After you spend $10,000 within the first three months, you'll earn 50,000 Membership Rewards points. If you spend an additional $10,000 within the first three months (for a total of $20,000), you'll earn an extra 25,000 points.
Standout features
$200 airline fee credit: You can designate your favorite qualifying airline each year and then receive up to $200 as a statement credit to cover checked baggage fees, in-flight food and drinks and other non-ticket expenses when you use your Business Platinum Card.

Airline points bonus: When you use your Membership Rewards points to pay for all or part of a business or first-class ticket on any airline or any ticket on your designated airline, you can get 35% of those points back, up to 500,000 points back per year.

American Express Global Lounges: The Business Platinum Card gives you access to over 1,200 airport lounges around the world, including AmEx's illustrious Centurian® Lounges.

Global Entry or TSA Precheck credit: Every four years, you'll earn a statement credit to cover your application fee for TSA Precheck or Global Entry after you apply. The amount of your credit will vary depending on which program you apply for, and you can only use it for one of the two programs, not both.

Fine Hotels & Resorts: Using your card to book through Fine Hotels and Resorts earns you a free room upgrade (if the hotel has one available), free breakfast each morning for two people, 4 p.m. late checkout, free Wi-Fi access and a special gift from the property worth $100.

Hotel elite status: As a Business Platinum cardmember, you'll hold automatic Gold Elite status with Marriott Bonvoy and Gold Status with Hilton Honors, entitling you to great perks like early check-in, late check-out, free room upgrades and more from participating properties.
Best way to use this card
The Business Platinum Card is not for businesses with tight budgets and low monthly spending. This card is built for small businesses that travel often and use their credit or charge card to make it happen. While this card features some fantastic rewards and perks, you'll have to spend to earn them all, starting with the sign up bonus.
At 75,000 Membership Rewards points, the sign up bonus will cover some significant travel expenses — if you can earn it. To see this valuable bonus reward hit your account, you'll need to spend $20,000 on your card ($10,000 to earn the first 50,000 points and another $10,000 to earn the additional 25,000 points) within the first three months of card membership. That's a hefty minimum spend to earn a sign up bonus. Treat this bonus as the barometer for determining if the Business Platinum is right for your company. If you'll struggle to reach this threshold, you'll probably struggle to take full advantage of all the other benefits as well.
Once you earn the sign up bonus, you'll need to put this travel rewards card to good use at the airport. Start by choosing your favorite airline from the list of qualifying partners and try to be as loyal to it as possible. You'll be able to take advantage of the $200 travel fee credit as well as the 35% rewards bonus when you book a ticket on your chosen airline. However, don't book your flights directly with the airline. Use the American Express travel portal to book your flights and prepaid hotel nights so you can earn 5x points on every dollar you spend.
Finally, enjoy yourself while you travel. The Business Platinum Card gives you access to many luxurious airport lounges around the world. Get to the airport early, sit down and enjoy a drink while you wait for your flight to board. You earned it with your Business Platinum Card.
In a nutshell
If you run a low-overhead business that keeps you and your team (if you have one) close to home, the Business Platinum Card's $595 annual fee is probably enough to make you scoff — and rightly so. You almost certainly will not be able to use its perks enough to make the membership fee worth it every year. Instead, a cash back business card like the Capital One Spark Cash will still reward you for your spending without an exorbitant annual fee.
The Business Platinum card is for business owners who spend a lot of time and money traveling to grow their business and enjoy perks while they do it. Thanks to its premium travel reward perks like a TSA Precheck or Global Entry credit, airline fee credit and global lounge access, you'll be able to travel efficiently and in style. If your business can handle the spending necessary to earn the sign up bonus while having enough cash flow to pay your balance in full every month, it's hard to go wrong with a card that rewards you as well as the Business Platinum.