Bank of America® Business Advantage Travel Rewards World Mastercard® credit card Review
February 13, 2020Doug Bonderud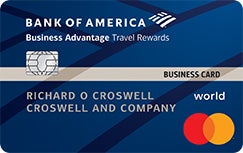 Best for: Small business with regular travel expenses
The Bank of America® Business Advantage Travel Rewards World Mastercard is a rewards card designed to help small businesses reduce the costs of regular travel purchases. At 1.5 points per dollar on every purchase and three points per dollar for any travel bookings made through the Bank of America Travel Center, businesses can earn big without worrying about category spending or maximum bonus points limitations.
The basics
APR: 0% on purchases for the first nine billing cycles, then 12.74%-22.74% based on creditworthiness.
Annual fee: None
Rewards rates: Earn 1.5 points for every dollar spent on all purchases and three points per dollar for travel bookings — including cars, hotels and airfare — made through the Bank of America Travel Center
Intro offer: Get 25,000 bonus points when you spend more than $1,000 in purchases during the first 60 days after account opening.
Standout features
Unlimited points: There are no upper limits on point-earning potential. Every purchase made earns 1.5 points per dollar, and all Bank of America Travel Center bookings earn three points dollar no matter how much you've already spent that year. In addition, points never expire.
Get even more rewards: The Bank of America Preferred Rewards for Business program offers multiple tiers to increase your bonus multiplier. With up to $50,000 in Bank of America savings or checking accounts, you get 25% more points per dollar on all purchases. If you have between $50,000 and $100,000 in your accounts, you'll upgrade to the Platinum tier and enjoy 50% more points per dollar, and if your total savings in Bank of America accounts exceed $100,000 you're part of the Platinum Honors tier — which grants a 75% points bonus per dollar, equating to 2.62 points per dollar for everyday purchases and 4.12 points per dollar for all travel bookings made through Bank of America.
Redeem points your way: Points can be redeemed for statement credit on any travel-related purchase at a fixed rate of one cent per point. You can also convert points to cash back or purchase gift cards at the same rate. But the best value for your points typically comes with Bank of America travel bookings; there are no blackout dates, and point costs change with time and demand, meaning it's possible to get a great deal on airfare or hotel stays for your business and get more from your points.
Manage your cash flow: This card includes access to QuickBooks transaction downloads along with online services such as automatic payments and transfers.
Enhanced security: Chip-and-PIN technology offers better card security than standard signatures and is now accepted in more than 130 countries.
Paperless accounting: Opt-in for paperless account statements to reduce waste and limit the risk of statement compromise.
Account linking: Link your Bank of America accounts to your Business Advantage Travel Rewards World Mastercard to prevent declined purchases or returned checks. This is especially useful if your business is undergoing a period of expansion or change and cash flow is unpredictable.
Best way to use this card
First things first — make sure you spend at least $1,000 in the first 60 days to claim your 25,000-point bonus. After that, Getting the most from the Bank of America Business Advantage Travel Rewards World Mastercard means leveraging the dual benefit offered by Bank of America Travel Center bookings. Here's why: Any bookings made through the Travel Center automatically earn three points per dollar (up to 4.12 points per dollar for Platinum Honors tier members), the most value you get can for your points.
Let's say you've got an upcoming business trip. Start by checking the cost of airfare and hotels on the Bank of America travel center. If there's a great deal available or a promotion underway, use your accumulated points to pay for the trip. If your preferred time and destination are more expensive, put the purchase on your card instead to earn maximum points. In this way, you can only redeem points costs are low, making sure you've always got points to spare. Spending happens when costs are high, letting you enjoy the benefit of unlimited bonus points for every dollar spent.
This card is also a great choice for everyday business spending with 1.5 (up to 2.62) points spent for every dollar, everywhere. Consider the same business trip: Any spending on your card — from dining to travel to amenities to souvenirs — earns rewards points. And for any travel expenses that fall outside the Travel Center purview, these points offer the perfect way to offset business costs and help keep costs low. Add in no annual fee, no foreign transaction fees and active fraud management and this is a great card for small business owners that are regularly on the road and prefer the direct benefits of unlimited travel points to potential cash back earnings.
In a nutshell
The Bank of America Business Advantage Travel Rewards World Mastercard offers multiple ways to convert business travel spending into line-of-business benefits. Travel booked directly through Bank of America earns unlimited bonus points, while cashing in these points for travel lets companies maximize points value on every trip, every time. Businesses can also earn even more points with the Preferred Rewards for Business program — Platinum Honors tier members get 75% more points for every dollar spent. Combined with the 1.5 points earned every day on every purchase and the ability to pick your preferred redemption method, this card is a great fit for businesses with regular travel expenses looking to both reduce costs and earn extra rewards options.