Bank of America® Business Advantage Cash Rewards Mastercard® credit card Review
February 13, 2020Doug Bonderud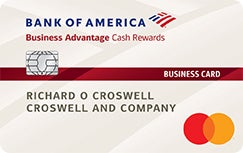 Best for: Small businesses earning cash back rewards in their category of choice.
The Bank of America® Business Advantage Cash Rewards Mastercard helps small businesses maximize their cash back earnings by letting cardholders choose bonus cash back in the category of their choice once per month.
Combined with a solid introductory bonus offer and the ability to earn even more cash back with the Bank of America Preferred Rewards for Business program, this card makes it easy for small businesses to maximize their cash back by spending on everyday operational expenses.
The basics
APR: 13.74%-23.74% based on creditworthiness
Introductory APR: 0% on purchases for the first nine billing cycles after account opening.
Annual fee: None
Rewards rates: Earn more cash back with Bank of America's 3-2-1 model: 3% cash back in the category of your choice — gas stations, office supply stores, travel, TV/telecom and wireless, computer services or business consulting services — along with 2% on dining and 1% on all other purchases.
Intro offer: $300 statement credit when you spend at least $3,000 on purchases within the first 90 days.
Standout features
Take control of your cash back: Once per month, you can change your bonus earning category to suit current business spending needs. Change your category using the Bank of America mobile app or Online Banking portal; if you take no action, the category stays the same for the next month.
Get even more cash back: The Bank of America Preferred Rewards for Business program makes it possible to earn even more with your Business Advantage Cash Rewards Mastercard. With up to $50,000 in Bank of America savings, you qualify for Gold Tier benefits which include 25% more cash back and a 5% interest rate booster on Business Advantage Savings Account. Balances between $50,000 and $100,000 enjoy Platinum Tier benefits like a 50% boost to cash back and a 0.50% discount on small business financing rates. Save more than $100,000 in your Bank of America accounts, and you'll get a 75% bonus on cash back along with 0.15% cash rewards on all Bank of America Merchant Services Processing. This translates to 5.25% in category cash back, 3.5% on dining and 1.75% for all other purchases.
Flexible redemption: Choose to redeem your cash back as a direct deposit into your Bank of America account, statement credit or a physical check. Cash back rewards don't expire.
Cash flow management tools: Get access to online business services such as automatic payments, transfers and transaction downloads into QuickBooks to help manage your business cash income and outflow.
Anytime, anywhere access: Manage your account online or with your mobile phone; check on balances or monitor account activity whenever, wherever.
Overdraft protection: Opt-in to overdraft protection by linking your Business Advantage Cash Rewards Mastercard with your Bank of America account to avoid potential pitfalls such as declined purchases or returned checks.
Fraud detection: Bank of America continually monitors for potential fraud activity and notifies cardholders if suspicious behavior occurs. Business owners also enjoy enhanced fraud protection against terminated or unauthorized employees who misuse card access.
Best way to use this card
Getting the most from the Bank of America Business Advantage Cash Rewards Mastercard comes down to knowing your categories: Where do you spend the most each month, and when does it make sense to change?
First, it's worth noting that the 3% and 2% cash back bonuses top out at $50,000 collectively each calendar year. After reaching this limit you'll get 1% cash back on all purchases until the start of the new calendar year. As a result, you're best served making large category purchases as early in the year as possible to ensure you get the most from your bonus cash back.
Next, it's critical to understand what each category covers:
Gas Stations — This category is active by default and includes gasoline purchases at popular service stations including BP, Chevron, Circle K, Shell Oil and others. 
Office Supply Stores — Earn extra cash back from office and school supply stores on common items such as paper, pens and printing needs. This category excludes department stores, drug stores and warehouses.
Travel — The travel category includes spending on parking, public transit, airfare, car rentals and hotels. The list of covered spending in this category is substantial, but it's worth checking with travel vendors if you're unsure about purchase classification.
TV, Telecom and Wireless — Monthly expenses such as cable, satellite TV, radio, landline and mobile phone services and online music services fall into this category. 
Computer Services — Earn cash back on computer equipment, software, network and cloud purchases along with maintenance and repair services.
Business Consulting Services — Services typically covered under this category include public relations, legal, accounting, tax preparation and general consulting services.
Effectively using these categories to maximize your spending means planning your purchases in advance. For example, if your business needs to replace multiple office computers, select Computer Services as your first category for the year and buy all the equipment you need during that month. Then, switch to TV, Telecom and Wireless to earn cash back on connections and set-up fees. If your business is growing, schedule multiple PR, legal and finance meetings in the same month and use Business Consulting Services, then switch to travel as your geographical footprint expands. With the right approach, you can reach $50,000 in spending with 3% cash back for every purchase, every year.
In a nutshell
The Bank of America Business Advantage Cash Rewards Mastercard provides total control over your cash back earning potential. By selecting the right categories each month and increasing your Preferred Rewards for Business tier level, you can maximize total rewards for essential business spending and earn consistent rewards on everyday company purchases.