BankAmericard® credit card Review
August 19, 2019Lauren Ward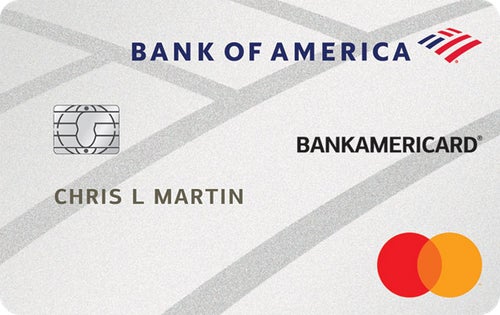 Best for: individuals who want to pay down high-interest credit card debt
The BankAmericard® credit card is an ideal option for people planning to pay down existing credit card debt as quickly and inexpensively as possible. It offers an extended 0% introductory rate for 15 months on both balance transfers and new purchases. Plus, there's no fee for balance transfers made within the first 60 days.
The basics of the BankAmericard®
APR: 0% intro APR on balance transfers and purchases for the first 15 months, then a variable APR ranging between 15.24% to 25.24%.
Annual Fee: $0
Intro Offer: $0 balance transfer fee for the first 60 days of opening your account. After that, future balance transfers are assessed a 3% fee.
The BankAmericard®'s standout features
Introductory rate period: Competitive 15-month term lasts longer than many other credit card options. 
Low-cost: The BankAmericard comes with no annual fee and no penalty APR charge for late payments.
Intro 0% APR applies to new purchases in addition to balance transfers. 
Monthly FICO® Score updates included as part of your mobile app or online account. Opt-in to review your score and factors influencing your credit health. 
Digital wallet: Connect your BankAmericard to Apple Pay, Android Pay or Samsung Pay for convenient shopping. 
Fraud protection: Bank of America blocks the transaction and provides a $0 Liability Guarantee if fraudulent activity is detected on your account.
Account alerts: Receive account activity alerts through email or texts to track payments that are either due or paid. 
Best way to use the BankAmericard®
Take advantage of the 15-month introductory rate period to best utilize the BankAmericard. It's ideal for planning a major purchase and spreading out payments over an extended time frame without accruing any interest.
Also maximize the card's balance transfer benefits to efficiently knock out debt from other credit cards. In addition to paying down your balance transfers interest-free for 15 months, you also won't be charged a balance transfer fee as long as you transfer your balances within the first 60 days. This fee typically ranges between 3% and 5%, which offers a huge savings on larger balances.
Stay on top of the calendar and act within this 60-day timeframe in order to keep your new balance as low as possible. Then focus your extra cash flow on paying down the principal rather than new expensive fees.
If you do happen to forget a payment, Bank Americard doesn't charge a penalty APR, giving you the flexibility to recover from a minor memory lapse.
In a nutshell
The Bank Americard doesn't offer a distinct rewards program as similar cards do. You won't earn cash back or travel reward points as you make purchases and pay off your bill each month. This credit card is, however, designed to make paying down your credit card debt easier without amassing extra fees on top of your balances.
The 0% APR introductory period alone saves you a substantial amount of money, which can be just as impactful as earning rewards. On top of paying no interest for 15 months, you also avoid paying any balance transfer fees. If you transfer a $10,000 balance, for example, you could be charged as much as $500 with other cards that come with a 5% fee. Even after the 60-day period, the Bank Americard only charges a 3% balance transfer fee.
No matter when you end up transferring credit card debt to your Bank Americard, you can minimize those heavy additional costs and gain the time needed to implement an effective debt payoff strategy.