Amex Green Card Review
March 16, 2020Kristie Kwok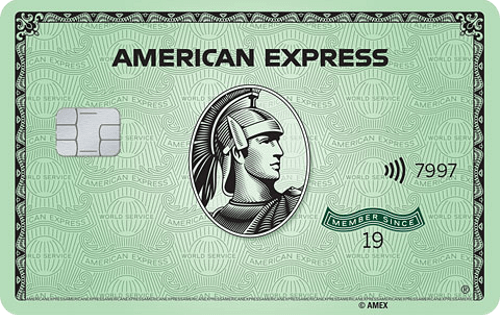 Best for: Globetrotters or adventure seekers with a love of eating out and a budget to match.
The American Express® Green Card is "green" in more ways than one. With climate change an ever-growing concern, Amex is using a 70% reclaimed plastic construction to make this card more eco-friendly. Rather than rewarding cardholders for just air travel, its triple rewards points apply to other kinds of holidays, too. So whether you want to embark on a cruise on the Mediterranean, take a camping trip to be close to nature or explore an entire country by train, you'll be rewarded handsomely with the Amex Green. What's even better is that you can earn triple points at restaurants as well, giving you another way to build points quickly.
That said, the card comes with a hefty $150 annual fee, and some of its secondary perks are all about making airport experiences more pleasant. To get enough value for your dollars, you've got to have a decent food and travel budget — and travel by air relatively regularly.
The basics
APR: Amex Green is a charge card, so you can't carry a balance from month to month. However, this card comes with a "Pay Over Time" feature that lets you carry a balance on eligible purchases up to a preset limit. This APR is a standard variable rate of 16.74%-23.74%.
Annual fee: $150, with no annual fee for additional cards.
Rewards rates: Earn 3x points on restaurants travel purchases including airfares, hotels, cruises, car rentals, tours, rideshare services and more and 1x point per dollar on other purchases.
Intro offer: Receive 30,000 membership rewards points if you spend $2,000 on your card in the first three months.
Standout features
Get through security faster: Receive $100 in statement credits each year when you pay for a CLEAR membership with your Amex Green. CLEAR uses your eyes and fingertips to confirm your identity, meaning you can pass through airports, stadiums and even Hertz rental car locations without delay.
Relax at airport lounges: Receive $100 in statement credits each year when you book airport lounge access through LoungeBuddy and pay for it with your card.
Great travel buddy: Enjoy trip delay insurance for unreasonable delays of 12 hours or more, car rental loss and damage coverage, baggage insurance for lost, damage or stolen luggage and 24-hour global travel assist. There's also no foreign transaction fee.
Split purchase costs more easily: The Amex app allows you to split purchases with other Venmo or PayPal users by dividing up costs and sending out money requests. When you're paid back, amounts will be credited directly to your account. Note that enrollment is required.
Shop with confidence: You can get up to 90 days of purchase protection on eligible items as well as an extended warranty for 12 months.
Flexible membership rewards: Pay with points when using PayPal or Amazon, redeem for gift cards, apply to offset credit card charges, use to book or upgrade travel or even transfer to other programs — the choice is yours!
Best ways to use this card
The best way to rack up points fast is to book your next trip with your Amex Green Card. This will earn you bonus points on airfares, hotels, car rentals, tours and more. Amex won't charge you for foreign transactions, and you'll get triple rewards for restaurant purchases worldwide. That said, you'll have opportunities to nab extra rewards for dining out at local restaurants and taking local trains, taxicabs, rideshare services, ferries, tolls, parking, buses and subways.
Another reason to book your next trip with your Amex Green is travel protection — you'll be covered for things like car rental lost or damage, baggage issues and trip delays. You can also make your journey more comfortable with $100 airport lounge credits each year provided you book through LoungeBuddy. If you travel by air often enough, you might consider a CLEAR membership for quicker identification at participating airports and receive up to $100 CLEAR credits each year.
As mentioned, there's a lot you can do with your membership rewards points. They won't expire for the life of your account and there's no limit to the points you can earn. And if you want to earn even more points without too much effort, having another cardholder on your account earns the same rewards rate as your card.
What's really great about Amex's rewards program is that you can transfer points to another airline or hotel loyalty program. There are more than 10 to choose from, including Virgin Atlantic Flying Club, Singapore Airlines KrisFlyer, AsiaMiles and Hilton Honors, to name a few. The transfer value of your points will differ depending on which program you choose.
It's also important to consider timing your credit card application to coincide with a big purchase or an upcoming trip so you can meet the $2,000 spending minimum and receive the 30,000 introductory bonus points. Of course, the intro offer isn't the only bonus Amex ever offers. Keep an eye out for additional promotions on shopping, dining, travel and entertainment. Add offers to your account, pay with your card and the points will be yours.
In a nutshell
As long as you travel relatively regularly, you'll be able to score great rewards and make use of the secondary benefits included with the Amex Green.
However, if the card's annual fee is making your eyes water, then you may prefer the Discover it® Miles card — it'll come with fewer perks, but you won't have to worry about annual fees or bonus categories.