Marriott Bonvoy Boundless
March 25, 2020Michelle Wilson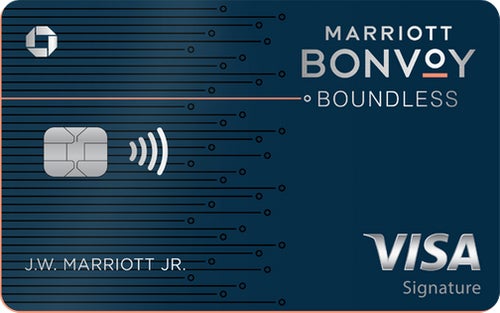 Best for: Travelers who stay at hotels often, as they'll benefit from this card's many travel-related perks.
Hotel expenses can add up quite quickly, especially if you're a frequent traveler. But Chase's Marriott Bonvoy Boundless Card in your wallet, you'll have the opportunity to take advantage of lucrative perks such as a free night's stay each year, a great ongoing rewards rate and automatic enrollment in Silver Elite status. Cardmembers can easily overcome the main disadvantage of this card, the $95 annual fee, with the free stay. But that's not the only perk worth writing home about when it comes to the Marriott Bonvoy Boundless.
The basics
APR: 17.49% to 24.49% variable

Annual Fee: $95

Rewards Rates: Earn 6X Bonvoy points per dollar at Marriott Bonvoy hotels and earn 2X Bonvoy points per dollar on everything else.

Intro offer: New cardmembers are eligible for 100,000 bonus points after spending $5,000 in purchases during the first three months.
Standout features
Large network of hotels: There are more than 7,000 participating Marriott Bonvoy to earn Bonvoy Points with, so you have the opportunity to earn points across the globe.

Elite Night Credits: Card members receive 15 Elite Night Credits each calendar year with some restrictions.

Automatic Silver Elite Status: With this credit card, you're automatically given Silver Elite Status.

Free night award: Enjoy a night free (up to 35,000 points) every year after your account anniversary,

No foreign transaction fees: If you regularly travel abroad, you'll be pleased to know this card doesn't assess foreign transaction fees. Many other similar travel cards often charge a 3% foreign transaction fee for the privilege of using your card internationally.

Purchase protection: This benefit covers your new purchases for 120 days against theft or damage up to $500 per claim, up to $50,000 per account. 

Lost luggage and baggage delay reimbursement: If you or an immediate family member check or carry on luggage is either damaged or lost by the carrier, you're covered up to $3,000 per passenger. Baggage delay insurance through the card means you can be reimbursed for essential purchases like toiletries and clothing for baggage delays over six hours by passenger carriers up to $100 a day for five days.

Trip insurance: If your airplane is delayed by more than 12 hours or requires you to stay overnight, you and your family are covered for reimbursed expenses, such as meals and lodging, up to $500 per ticket.

Visa Concierge: Receive complimentary Visa Signature Service 24 hours a day. Through this service, you can get tickets to top sports and entertainment events and make dinner reservations.
Best way to use this card
To maximize the value from this rewards card, it's a good idea to earn the sign-up bonus mile offer, which can easily put you closer to your next vacation. Besides using your card on everyday expenses to take advantage of the ongoing rewards rate of 2X Bonvoy points on everything, you can earn more points for Marriott purchases just by being a Marriott Bonvoy member. In most cases, you'll get around five or 10 points per dollar spent on eligible purchases, depending on the hotel.The other huge benefit of this card is the automatic Silver Elite status, which is a step up from the basic membership level. It delivers perks like priority late checkout, a 10% Marriott points boost, access to exclusive phone lines to make reservations, and compensation if Marriott can't honor your reservation. If you want to up the ante and level up, you can also earn Gold Elite status if you spend $35,000 or more each account anniversary year. Gold Elite status delivers enhanced room upgrades and 25% more bonus points on hotel stays.Although you'll get the most value from your points by using them for Marriott hotel stays, there are a few caveats to understand. Off-peak stays will give you the most bang for your buck at just 5,000 points per night. For normal or standard dates, you'll need 7,500 points per night. And for peak dates, such as during the holidays, you'll need 10,000 points per night. If you don't have enough points to cover a stay, you can combine your points with cash to redeem them for standard stays. Best of all? If you redeem four nights' worth of points, you'll get a complimentary fifth night to enjoy as well.If you don't want to use your points for hotel stays, you can also redeem your rewards for other charges incurred during your stay like beverages, food, or trips to the hotel spa. You can also redeem points for cruises and other travel packages, cover the cost of TSA Precheck, or transfer your points to other airline loyalty programs. And if you don't want to transfer your points for travel at all, you have the option to trade in points for products, merchandise or gift cards.
In a nutshell
The Marriott Bonvoy Boundless Card offers plenty of perks to make it an incredibly valuable hotel card. If you decide on this card, you can easily overcome the $95 annual fee. However, if you're truly fee-averse and open to a more general travel card, you may want to consider an alternative like the Discover it® Miles card. For no annual fee, you can earn 1.5X miles on all purchases, and your rewards never expire. Plus, at the end of the first year, Discover matches all the miles you've earned automatically.But for Marriott hotel loyalists or frequent travelers who want to level up to an elite hotel status, the Marriott Bonvoy Boundless offers great perks that make it a worthwhile choice.