Hilton Honors American Express Surpass® Card Review
March 25, 2020Christine C. Renee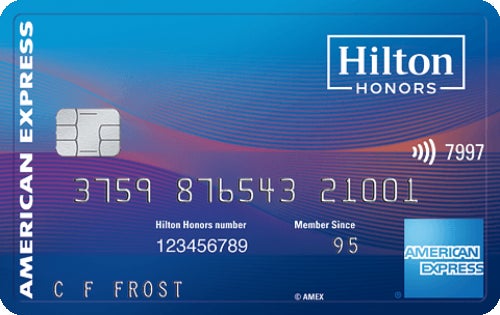 Best for: Travelers loyal to Hilton hotel brands looking to earn easy rewards and take advantage of a generous sign-up bonus.

For those who enjoy staying at a Hilton hotel when traveling, American Express offers a co-branded Hilton Honors credit card which offers a substantial sign-up bonus and easy-to-earn rewards.
The Hilton Honors American Express Surpass card gives you 12 times rewards for every dollar you spend on eligible purchases when staying at any one of the properties within the Hilton portfolio. After that, you can earn 6 times points on every dollar spent at restaurants, supermarkets and gas stations, and 3 times points for every dollar on all other purchases.
Even better, you'll receive automatic enrollment in the Hilton Honors Gold status, no foreign transaction fees, free stays (after reaching a certain spending amount) and exclusive entertainment access.
The basics
APR: 15.74% to 24.74% variable APR for purchases and balance transfers.
Annual Fee: $95
Reward Rates:  Cardmembers earn 12x Hilton Honors bonus points on eligible purchases at hotels or resorts in the Hilton portfolio, 6x Hilton Honors bonus points for purchases made at U.S. restaurants, supermarkets and gas stations and 3x Hilton Honors bonus points on all other purchases.
SubscriptionOffer: Earn 150,000 in Hilton Honors bonus points after spending $3,000 on your card in the first three months.
Standout features
New cardmembers get complimentary Hilton Honors Gold Status. This benefit includes multiple luxury hotel upgrades plus an 80% bonus on all Hilton Honors base points that you earn. You also get a fifth night free when booking a reward stay of five nights or more. 
A chance to upgrade to Diamond status, an upgrade to the gold tier status which can include executive lounge access, premium wifi, 48 hour room guarantee, among other perks, if you spend $40,000 on eligible purchases in a calendar year.
Free weekend night rewards after spending $15,000 on eligible purchases in a calendar year.
No foreign transaction fees, so you can enjoy international travel without worrying about extra costs.
Car rental loss and damage insurance, as well as baggage insurance.
24/7 access to medical, legal and financial assistance with the Global Assist Hotline.
American Express Preferred Seating access and American Express Presale where cardmembers get exclusive access to certain events before tickets go on sale to the general public. 
You may also have access to American Express cardmember-only events in a city near you.
Cardmembers can also get a Shoprunner membership in partnership with American Express and get free two-day shipping at over 100+ online stores.
Complimentary Priority Pass Select membership which includes airport lounge access to over 1,200 airport lounges so you can kick back in style while you wait for your next flight.
Best way to use this card
To maximize the use of your Hilton Honors Surpass rewards card, use it for everyday purchases and make sure you hit the bonus threshold of $3,000 within your first three months of membership. That will earn you the 150,000 Hilton Honors bonus points. Depending on where you redeem these points, they may earn you a free stay at one of your favorite Hilton Hotels.
You'll also want to make purchases at U.S. supermarkets, restaurants and gas stations to earn six points per dollar —double the rate for other purchases. To earn the most possible points, book your stay at a Hilton property so you can earn 12 points per dollar, plus use your card to pay for any incidental charges on the room — that earns points too.
You can maximize points and earn faster by adding an authorized user. American Express will allow you to add anyone 13 years or older to your card. Help your teenager get started on building their credit early, or get a partner signed up to help earn points so you can get to Diamond status and a free hotel stay faster.
In a nutshell
Overall, the Hilton Honors American Express Surpass card is designed for Hilton Hotel loyalists. Rewards points are redeemable at all Hilton hotels and resorts at more than 570 properties across six continents. No matter where you travel in the world, you're bound to find a Hilton brand hotel that fits your budget and level of comfort.
The current introductory bonus of 150,000 Hilton Honors points alone could fund one night stays at a luxury hotel. Plus, the automatic enrollment in Gold Status gets you hotel upgrades from the start.
With hard-to-beat cardmember perks and a generous sign-up bonus, this is an excellent card for everyday spending because it's one of the hotel credit cards that's easy to build points on.